It's not considered a vacation, yet not really considered work either when you head to Deer Valley for a few days of training.  I'll just call the trip a workcation.
We headed to Park City, Utah on Wednesday morning of last week.  We loaded up the Honda Accord and headed down for my work meetings that I'd be having at Deer Valley.  Once a year my employer has a work meeting at a place you can really enjoy, and for the last few years they've done it there.  Although it's not the area's prime time, Winter, I really feel like Fall is the second best time to visit.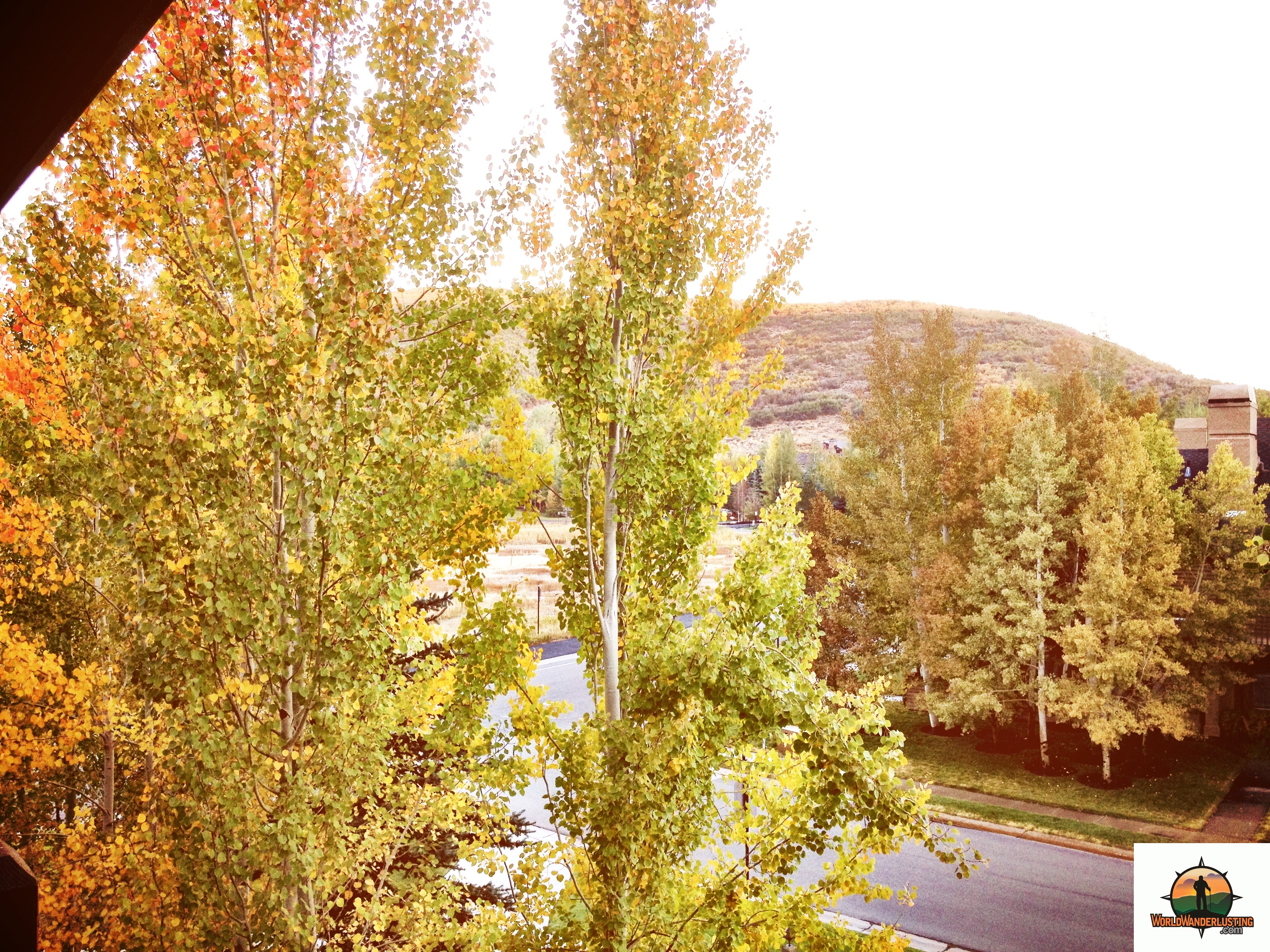 They've got an abundance of fall colors everywhere you look.  The aspen trees turn from green to yellow to brown.  Other deciduous trees turn fire-red and make the hills look like they're ablaze.  Although it's not like the Eastern United States where trees are absolutely everywhere, it still provides open spaces, views of lakes, yet the perfect amount of fall colors.
The work meetings were inspiring, yet time-consuming.  If only I could have spent a bit more time in the fresh air.  I love fresh mountain air in the morning.  The steam comes off the hot tub and everything still seems frozen by the night.  As the sun rises on the already orange and yellow leaves it's confounding because the moment feels more like twilight.  This is a feeling you can't find in New York City, or in Los Angeles.  This is why it's important to travel and experience different places in all seasons.
The food in Park City offers foods, flavors, and drinks of all varieties.  We settled on Purple Sage, which is a hole-in-the-wall restaurant on Main street.  You might find the lighting to be bad, but you can't go wrong with anything on the menu.  I went with some buffalo ribs that were DELICIOUS. (I recommend getting extra sauce).  The Barbeque Chicken Tamales appetizer was definitely worth it as well.  Everything seems unique there, and it's definitely not a franchise.
Friday was golf day!  Don't worry, I'm no Tiger Woods (neither that I'm good at golf, nor that I cheat on my wife).  This course has some of the best Fall scenery ever.  Maybe I can blame some of my lost golf balls on the desire to indulge in nature's path.
Our team took last place in the golf scramble, which meant that we got a free sleeve of nice golf balls.  How exciting that I'll get to lose them next time I'm golfing there.
Since my wife was going to hang out with some friends, I figured it would be a good time to have some "Man" time with my boy Max.  We did a bit of shopping for work clothes for me, and then headed off to dinner.  Since Max loves veggies and fruits more than most other foods I decided that Sizzler would be a good option as he could eat from the salad bar.
He ate more peas than I've ever eaten in one setting, but it is nice to know that he is getting some nutrients.  Somehow he will always find room to throw back more peas, corn, or watermelon no matter how full he might already be.  Although it was stressful being a "single dad" for two nights, it definitely gave me an appreciation for my wife and all of the other moms out there.  What a job!
Our hotel was an easy decision since we have so many Club Carlson Gold Points from their recent Big Night Giveaway promotion.  We chose the Country Inns and Suites in West Valley City, Utah.  It wasn't fancy, but it was free, which makes it fancy to me.  The pool sounded fun, and the hot tub sounded relaxing, but both were hard to enjoy with Max.  We finally found the bath to be the perfect fit for our objectives.

Life is definitely harder when traveling with kids, but you'll have moments that you'll never forget, just like this awesome experience that we had playing cars in the bath.  Worldwanderlust with us and get 50,000 Marriott Rewards Points, which will just be kindling on the fire later.