I know.  You clicked on this article because the title was too utterly intriguing to pass up – a little bit like the "one weird trick" that will turn your flab into washboard abs – though I can guarantee that the content won't be disappointing.
You see, we're building an army of wanderlusters – and when we hear things like "I'd love to travel, I just can't afford it…" we gag.  We wince.  We wonder – why won't you wanderlust with us?  We put a new spin on travel – a spin that replaces "I can't afford it" with "how can I afford it?"
Now, onto the content.  You came here because you like luxury.  You've been on a cruiseship and you long for mouthwatering buffet tables, cost-worry-free fine dining, high-class entertainment, and attentive service. Or perhaps you've never indulged, but the idea has you excited. It should.
Now, a couple seemingly unrelated questions: Do you have the discipline not to make irresponsible spending decisions when making purchases on a credit card? Can you make $3000 in purchases in the next three months that you can pay off immediately ? Would your credit score stay above 740 (excellent) if it temporarily dropped 5-7 points?
If your answers were all "yes," we're on a roll… hang with us, we're getting to the fun part.
Here's what I want you to do: Click this link for the specifics on the Chase Sapphire PreferredSM .  Read the details.  Those 40k Ultimate Rewards points, plus the ~3k points you'll get in meeting the spending requirement will net you $430 in cash when you log into your UltimateRewards.com account and click the "Get Cash" option.
In the meantime, take a look at the Vacationstogo 90 day ticker – it summarizes the best deals on cruises.  Because we're cool like this, I took the liberty of downloading the latest list, adding a column which calculates $ per night, and sorted by the cheapest cruises – the top 25 are right here.  Nope, those aren't errors.  Yes, you can literally have an all-inclusive  cruise vacation for less per-night than pricelining a hotel (prices are for double-occupancy).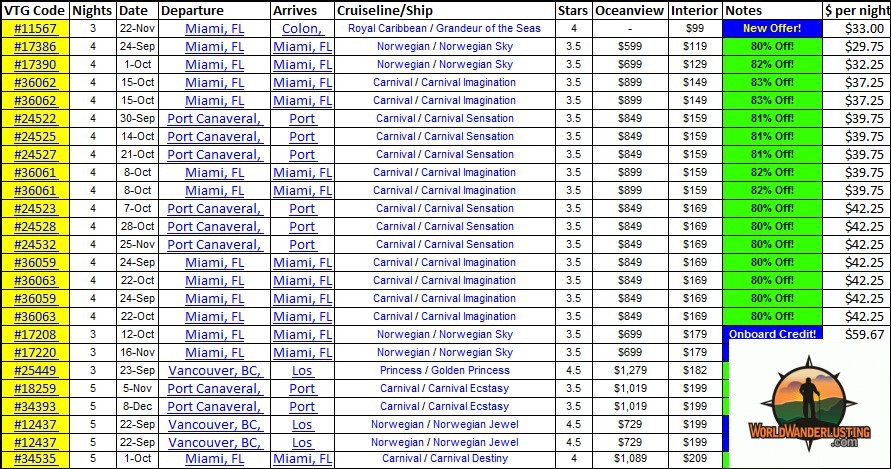 Of course there are other costs, so we are going to eat up a little more of your $430. Let's say we planned on the Carnival Imagination out of Miami for $169.  You'll have about $80 in taxes and fees.  You'll also have to tip the attentive cruise staff $11.50 a day for another $46. But all in, you have your cruise paid for with $295, and your wallet is still fat with a Bennie and $35.
Now, you need to get to Miami – and how you do that will depend on where you're at and which airline is most convenient to fly.  Here are four options that will load you up with enough miles to book a domestic roundtrip flight with little to nothing out of pocket and no first year annual fee.
If this seems overly simple, it's because it is.  Two credit applications that might only temporarily slightly affect your credit score, some measly minimum spend requirements, and you're off and running. I can't even begin to tell you the wonders of wanderings I have and will embark on thanks to an understanding of the relatively easy concept of seizing frequent flyer mile opportunities.
Don't want to cruise alone? Have your spouse or friend perform the exact same maneuver and you'll be traveling together.
If you like the idea and you want to join our army of wanderlusters, just enter your email in the subscribe box on the right margin of this page, Like us on Facebook, and don't hesitate to share with friends.  I can guarantee they will think you are super cool if you show them how they can get in on the action, too.
Leave us a comment if you have any questions or thoughts and, as always, thanks for wanderlusting with us.