At WorldWanderlusting.com we like to focus on Low-Level Redemptions.  This means that you maximize the use of the miles that you accrue by spending them efficiently.  For example:
American Airlines Redemption Chart

Europe: Oct. 15 – May 15 is the off season(Miles SAAver Off-peak) when going to Europe with American Airlines.  Therefore, I'd recommend that you book your flights to Europe between October 15th and May 15th.  This will save 20,000 AAdvantage miles per person per direction.
Bottom line is that if you're taking a family of three kids to Europe, this makes your miles requirement 100,000 less than if you were to go during the Mile SAAver timeframe.  In April of this year our trip to Europe burned 80,000 miles for my wife and I.  My in laws came with us, which burned another 80,000 miles.  So for 160,000 AAdvantage miles we were able to take five people (my son is under 2) to Europe on miles.
If we were to try the same trip during the peak season it would have burned 240,000 miles.  This is the power of using the low-level redemptions.
Starwood Preferred Guest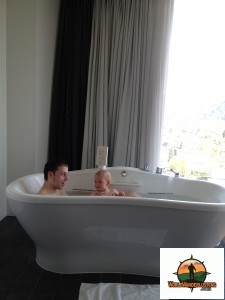 I've also taken advantage of some amazing deals in the Starwood Preferred Guest redemption program as well.  This is like shopping in the grocery isle and picking the items that are on sale.  Most people probably purchase whatever without looking at the price.  If you're the kind of person who shops for bargains, then that is seeking the low-level redemptions.
With hotels I'm always shopping in the lower categories.  With the Starwood Preferred Guest program you can shop amongst tons of hotels that fit within the Category 2.   If you stay in category 2 hotels on weekends it only burns 3000 points per night.  If you stay there on a week night you burn 4000 Starpoints.
Right now you can get up to 25,000 Starwood Preferred Guest Starpoints with the American Express SPG card.  When you use low level redemptions this card will allot you up to 10 free nights.  With each night coming in at a value of over $100, I see this offer worth over $1000.  Hurry, it won't last long.