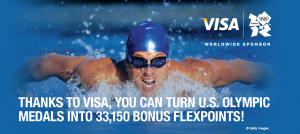 US Bank Flex Perks Visa Olympic Promotion
US Bank FlexPerks is a mediocre set of bank points. They pale in comparison to the Ultimate Rewards that Chase has constructed. This offer is in conjunction with the Olympic Games, and the offer is based on the number of medals that the US won in the 2012 London Olympic Games. Fortunately we rolled the competition and got lots of medals. This offer is for 33,150 FlexPerks.
With the FlexPerks each 10,000FP is worth $200 in airfare. The 30,000 FlexPerks is worth any airfare less than $600. If the flight is $601 then you wouldn't have enough FlexPerks to cover the flight. Like I said, the program isn't amazing, but $600 for one credit inquiry is a great offer. This offer expires August 31st, so time is running close.  The spending requirement is $2500 within 5 months, so that is pretty easy for most people.
They don't have any travel partners, so transferring the miles isn't an option.  This card doesn't pay us a commission, but it is a great offer for someone who wants to send in a credit card application that isn't with Chase.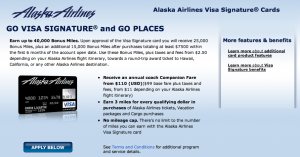 Alaska Airlines 40,000 Bank of America Credit Card
Alaska Airlines is a great airline.  They have incredible amounts of partners, and do very well when flying the west coast going to Alaska, Mexico, and Hawaii.  If you'd like to visit one of these places, this is a great card.
The spending requirement is much higher than it was last time.  Now you've got to spend $7,500 within 6 months to get the full 40,000 Alaska Airlines miles.  You get 25,000 for your approval on the card (Which is enough miles to get one person to Alaska), and the additional 15,000 when you complete the spending requirement.
This Award Chart will help you to see the value of the 40,000 miles. This isn't our link, so we don't make anything when you apply for this card.
Marriott Rewards® Premier Credit Card is Back
Chase removed this link from us for about two weeks, but now they've given it back to us.  This is one of the best cards for a greenie.  There isn't any spending requirement, and you score 50,000 Marriott Rewards points  with the application.  It also gives you one additional free night for a category 1-4 hotel too.
If you can stay five nights in a category 2 hotel, plus the additional free night that means you can get six free nights.  If you include the breakfast that some hotels offer this card can be worth up to $1000.
My brother Colby values Marriott points over any other hotel chain because of their abundance.  Low level redemption is really possible.  Look at our Using Hotel Points to see how far the points would stretch for you.
This card is our link, so we would appreciate if you used it 🙂
Club Carlson 25 Years Celebration

Club Carlson has a new promotion that isn't as good as the Big Night Giveaway that they did earlier this year. This promotion is in celebration of the 25th anniversary of the Country Inns and Suites hotel chain.
You must first register for the 25 for 25 promotion. Then you must stay two consecutive nights at the Country Inns and Suites chain. It isn't the biggest promotion that I've ever seen, but if you have to stay two nights anyway, why not load up an additional 25,000 points while you're at it.