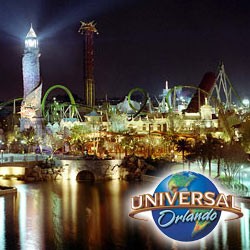 What if I told you that it costs $15 just to park at Universal Studios Orlando or one of the Disney Theme Parks?  If you're like me, you'd say that a free shuttle from your hotel is a necessity.  Well how about a free shuttle from a free hotel?
This is precisely what WorldWanderlusting is about! Helping you put the "R" in "FEE."  We love to travel, and we hate to hear people say, "I'd love to travel, I just can't afford it. How many families would like to visit the theme parks in Orlando, but have a hard time with the idea of springing for $1000-1500 in hotel costs?  I'm guessing that there are a lot.
Well, we're about to show you how you can stay for at least 8 nights in the Sheraton Lake Buena Vista Resort at absolutely no cost to you.  Does is sound too good to be true?  Ok, here's the catch.  You have to sign up for a credit card, then you have to make the same purchases you make normally, but put them on your Starwood Preferred Guest American Express, and then pay them off entirely before ever accruing any interest.  Once you spend $5000 within 6 months, the free-travel fairy comes with 25,000 Starwood points – your ticket for as many as 8 free nights at 3-4000 points per night (Starwood's Category 2 rate).Wait a minute, what other hotels could you stay at?
But the hotel is probably a dive, right?
It's a beautiful hotel. The rooms are immaculate, the location is ideal, and the amenities abound.  You're not going to get a whole lot better than this. Starwood Category 2 hardly second-class.  This is not a chain that skimps on luxury.  You'll be in heaven… it's possible that you won't even want to leave the property.
But, applying for the credit card will hurt my credit, right?
The short answer is "not really, as long as you're responsible." For that one, we have a specific post.  You'll need to check out "Doesn't it Hurt My Credit?"
Why would a credit card company do something like that?
They're building brand loyalty, not just for Starwood, but for American Express, too.  We have a post that talks about this, too.
Wait, show me some more pics of that hotel.
Well, it's a resort… but, yeah, here they are:
Well, how can I fly to Orlando for free?
Oohh… you're greedy and we love it. ok… here's how you can fly to Orlando for free.
This is good stuff! I want to keep track of what WorldWanderlusting is doing!
Glad to have you! Follow us on Facebook or enter your email in the subscriber list in the box on the upper right hand side of our site.