It has been over a year since we discovered the incredible Starwood hotel loop in Alpine Europe.  Yeah, that's the one that we drew up to take advantage of the lowest Starwood redemption rates and stay somewhere around 7 or 8 nights for free in some of the most amazing country in Europe.  Planning it, talking about it, and sharing the idea invoked a thirst that had to be quenched… and in April of 2012, quench we did.
All of these hotels were paid for with Starpoints that I received from the Starwood Preferred Guest(R) Credit Card from American Express, something I'd urge you to look into if you have any kind of European wanderlust.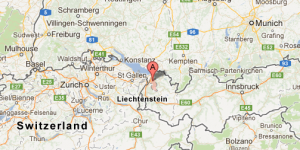 Dornbirn Panoramahaus Four Points By Sheraton
This place is an absolute paradise.  It is easily the tallest building in town and the reason for which it is named "Panoramic House" is rather obvious.   It is right off the highway and you won't have any trouble finding it.
The hotel is located very close to the border of Switzerland and Austria and is surrounded by mountains and lakes. Each room has an incredible view of the mountains above or the valleys below.  The outside walls are all windows so you'll never wonder what the weather is like.
How do you improve on a free hotel room? How about free access to the spa?  You could easily lose yourself in this spa for weeks at a time.  This photo doesn't even do justice to how wonderful this place will make you feel.  Drift away in the huge heated pool and move from station to station of bubbles, water massagers, foot jets, and more.
You'll also enjoy the two saunas, ice room, and steam room for your maximum comfort. In Europe, it's not taboo to enjoy the sauna without clothing.  Although most are clothed, plan on seeing a few nude people.
They also have a lap pool outside for anyone who is interested in swimming laps after enjoying the sauna.  Bring along your favorite book and soak up the rays in the sun room or take a nap in one of the comfortable loungers.  Essentially this place is for ultimate relaxation after enjoying the outdoor activities which abound in the valley.  Sadly, underestimating the excellence of this property and the surrounding area, I only booked it for one night.  You can imagine what a travesty it was to leave so soon.  I could easily have spent a week or more enjoying the natural beauty of Dornbirn.
The hotel is only about an hour an a half from the Zurich airport, so it isn't too far to drive and parking is also free.  This is in stark contrast to any place you might try to stay in Switzerland, where expenses run high for just about everything.
Located right next door to the hotel is a mall where you can shop for everything from clothes to groceries.  The grocery store is the best place to find breakfast because it is the cheapest place to eat in town.  Pick up some European snacks and don't even think about leaving until you have a stash of dream-worthy chocolate.
Close Things to Do
Visit Lake Constance
See the Rolls Royce Museum close to town
Drive to Bludenz and see if you can buy some discounted Milka chocolate that is produced there.
See Liechtenstein, one of the smallest countries in the world.
See the Zepplin Museum which is a 28 miles away.
Spend a day at the spa relaxing.
Do some hiking.  The front desk told us about a beautiful canyon closeby called Rappenloch, but we didn't have enough time.
Enjoy specatcular views of the valley by riding a cable car to the top of Pfander.
This is a Starwood category 2 hotel, meaning that it will only burn 3000 points per night on a weekend or 4000 on a weeknight.  Right now, the Starwood Preferred Guest(R) Credit Card from American Express will bonus you 25,000 Starpoints after meeting the $5000 spending requirement, so staying a couple of nights  in this Alpine paradise will barely even put a dent in your points balance.