If you've never traveled abroad you might think that a Visa is the small logo on the corner of your credit card.  Although that is one type of visa, it is not the only kind of visa that you might need when traveling to other countries.  Stay tuned to learn more about what they are and when you might need one.
What is a  Travel Visa?
A visa is permission to visit a foreign country granted usually by the consulate.
Is a Travel Visa required for all foreign travel?
No.  The USA has a reciprocal agreement with hundreds of countries where we don't require them to get Visas to visit the USA, and they don't require Visas for us to go and visit them.  If you want to read on the Department of State's website you can look under the category "Enter/Exit Requirements for US Citizens."  This will tell you whether or not you need to apply for a visa before arrival, upon arrival, or if there is no need for a visa.
How do you get a Travel Visa?
Each country is different.  Cambodia is a country that allows you to purchase your visa upon arrival.  They simply charge you $30 at the border and they send you on your way with a pretty visa in your passport.
The absolute worst nightmare is when you have to apply for the Visa before arrival.  You fill out a page of blablabla information explaining why you are visiting the country.  Then the nerve racking moment comes when you stick your passport in the mail to the consulate with a check for an outrageous amount and a postage paid envelope that they can use to send it back to you.
Other Travel Visa Tips: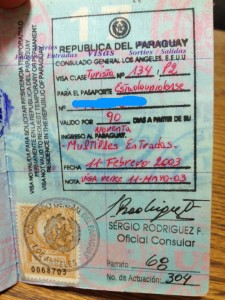 Because I'm too darn cheap, I have yet to pick the "Track & Confirm" option, which has always left me worrying if my passport would ever arrive before the trip.  For that reason I always recommend paying a few dollars more to make sure the passport is tracked to the consulate, and back to your house.  It'll save you a bottle of Tums.
Make sure you look up on the Department of State's website after booking your trip to make sure you know if you'll need a visa or not.  Make sure you have enough time to mail off the visa tot he consulate, and then have them mail it back.  Booking a trip that leaves tomorrow without a visa wouldn't be a good idea even if the trip was really cheap!!
How much does a travel visa cost?
It really depends on the country that you're visiting.  Russia has a nightmare visa program.  I can't even remember how much the visa was, but I think it was $150 or something like that.  It seems like Vietnam was about $75, which is probably about average.  Cambodia's visa was $30, which wasn't too bad of a price.  A lot of South American countries require visas and they seem to cost about $100 per country.
Travel visas can be a cost that could easily be forgotten when booking a trip.  Always remember to factor those costs into your overall trip budget if you plan on moving from country to country.
How long does a travel visa last?
Most countries will allow people to use their visas from 30-90 days.  At which point they require you to get some form of residency, or to leave the country and come back.  I met an expat once living in Thailand who had to leave every 90 days.  He had been to Malaysia almost 25 times and usually just flew into the airport, ate lunch, and caught the next flight home.
Always do your research before heading out on the trip. Enjoy your destination and wanderlust with us on Facebook and Twitter.