Oh yes, this is another which will go down in the history of beautiful WorldWanderlusting  drool-inducing mega-cheap itineraries.  I have a personal affinity to Spain… I lived there for almost two years.  It is a veritable travel mecca.  Centuries of history – Iberian natives, Romans, Moors, and modern inhabitants have contributed to a culture which is world reknowned for a reason: simply because it is magnificent.
For most people, a Spanish loop tour would include Barcelona or one of the other mediterranean cities on the coast.  True to form, we're going to break you out of the mold.  This is likely the first loop of many in Spain because Marriott has an abundance of Category 2 hotels in la madre-tierra, and I have an abundance of Spanish wanderlust.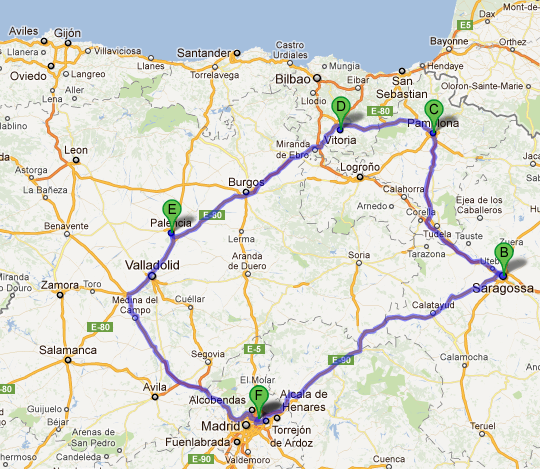 The Flight
I'm going to suggest that you fly into Madrid.  I'm also going to suggest that you do it for free.  No, I'm not joking.  Quite literally, you can apply for the Chase Sapphire PreferredSM  for $500 in free travel and, after meeting the spending requirement and using your credit responsibly, obtain enough to get you a free or drastically reduced roundtrip flight from the US to Madrid.
At the same time, you're going to want to apply for the Marriott Rewards® Premier Credit Card.  This card is going to get a total of 6 free nights in fantastic Marriott properties on this glorious loop through some very beautiful places in Spain.  The nice thing is that the Marriott Rewards® Premier Credit Card has no minimum spend requirement, so you'll be ready to use it almost instantaneously.
You'll arrive early in the morning – such is the blessing and the curse of flights to Europe. Get a rental car from one of the major companies at the airport.  You're talking about $150-$250 for a week, depending on whether you can cram into a 2 door or spread out a bit.

Day 1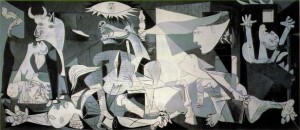 You're in Madrid, so you'll need to visit El Prado or Museo Reina Sofia.  My personal recommendation will be to go to the latter so you can take a look at Picasso's "Guernica."   If you're into ceramics, you may want to visit the Antigua Casa Talvera, or if you're more like me, just be sure you pick up a churro con chocolate in one of Madrid's many gorgeous parks.
You'll use your first free Marriott night at the AC Hotel Alcala de Henares on the way out of town.
Day 2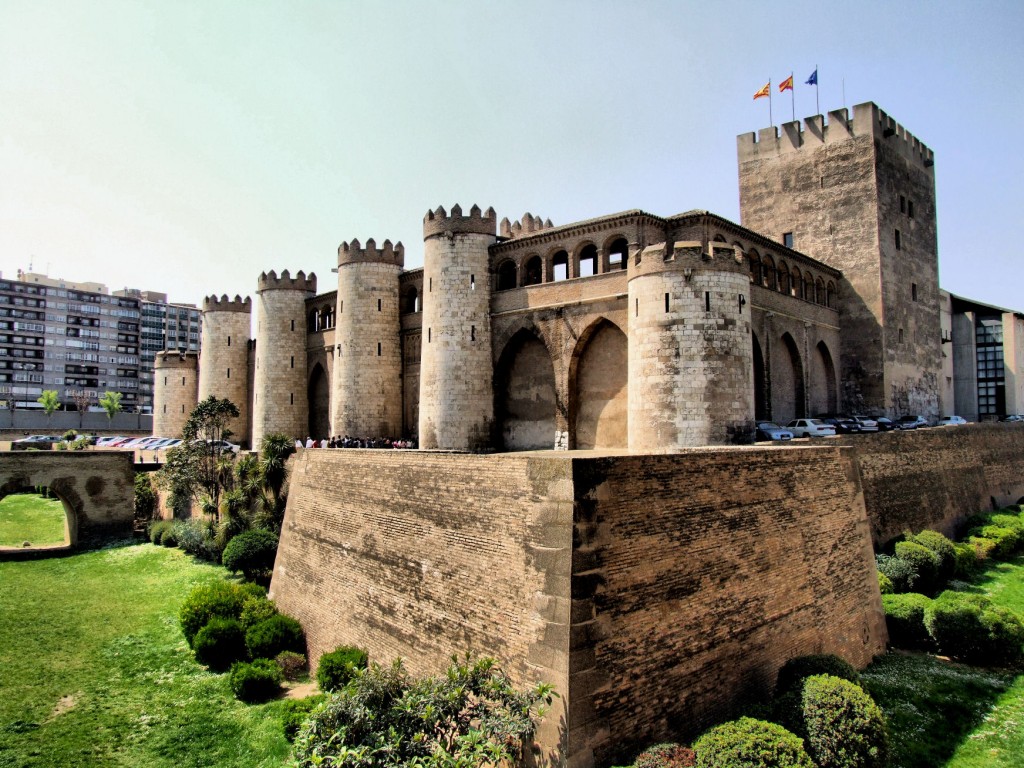 A bit of a drive will take you to Zaragoza.  If you don't get sidetracked by the many possible detours, you'll arrive in time to visit the Palacio de la Aljaferia – a remnant of Moorish architecture, with a history that will have you intrigued.  Many more sites await you, including La Seo de San Salvador.
You'll spend the first 10,000 of your 50k Marriott points on the AC Hotel of Zaragoza.
Day 3
On the road again, you'll now be entering my favorite part of Spain – one of the many parts of Spain that don't want to be a "part of Spain:" the Basque Country.  Known for its "Running of the Bulls," today your objective is Pamplona.  If cobblestone streets are your thing, you're in luck.  Be sure to dine on some delicious Spanish chorizo and la tortilla espanola in one of the many idyllic cafes on the ancient streets of the casco viejo.
Take your pick and either stay in the AC Hotel Zizur Mayor or the AC Hotel Ciudad de Pamplona, also 10,000 Marriott points.
Day 4
Today your journey and your destination are one in the same.  You'll take a scenic tour through some extremely appealing Basque pueblos – Idiazabal, and Onati.  Don't be afraid to stop in on one of the many "Baserriak" (farmhouses) that dot the deep green landscape.  The owners will likely welcome you with open arms.
Hopefully you enjoy yourself so much that by the time you arrive in Vitoria, you simply lay down and crash at the AC Hotel General Alava– your fourth of six free nights courtesy of the Chase Marriott Card.
Day 5
Before leaving Vitoria, take some time to visit the sights in the capital of the Basque Autonomous Region.  One you may not want to miss is the Gothic Santa Maria Cathedral.  There's more to see in Vitoria, but even if you see it all, stop by Burgos on the way to Palencia where you can see other impressive cathedrals and historic architecture which predates the entire United States.
Arriving in Palencia, you can rest at the AC Hotel Palencia – 10,000 Marriott points for which you paid absolutely nothing.
Day 6
Palencia, like just about everywhere else in Spain, also has hints of each of the cultures which have occupied the land.  One interesting sight is the Puentecillas Roman Bridge – spanning the Carrion river.  Don't spend too much time, though, because you'll also want to stop in Valladolid where you could opt for the massive Simancas castle, a stroll in the Plaza Mayor, some delicious Spanish pastries… or all three.
You'll stay on the outskirts of Madrid in the AC Hotel la Finca – the last of your Marriott points well spent.
Now, obviously you can and should extend this vacation.  It wouldn't hurt to spend some more time up in the Basque Country, or stopping in on some of the amazing little towns along the way.  It won't hurt you too bad to have to pay for a few hotel stays every once in a while.
As we mentioned, we'll have many more wanderlustful ideas about how to blow your 6 free Marriott nights in Spain.  We'd like to remind you that the recommendation we make to use your good credit to secure travel benefits is not one we make without a great deal of research and without the commitment on your part to ensure that your credit is well-protected.  As always, if you do join in, please use our links as we do get paid a small commission when you apply from our site. 🙂
If you're new to WorldWanderlusting, you may want to check out these other helpful posts.
We've also done similar posts to this one such as:
Thanks for wanderlusting with us.  If you like what you're seeing, please follow us on Facebook and sign up for email updates at the top right of our homepage (we don't share your email).