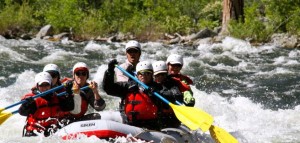 Spectacular scenery.  One hundred named rapids.  Adrenalin coursing through your veins.  Beautiful sandy beaches.  Remote wilderness.  Explosive, churning water.  Bathing in natural hot springs.
The Middle Fork of Idaho's Salmon River (the River of no Return) has them all… and more.
For the adventurer, this is about as good as it gets.  About the only natural adventure experience that I've ever had that could rival six days on the Salmon was climbing Mount Kilimanjaro, but you don't have to go halfway around the world to do it.  In fact, if you live in Las Vegas, Phoenix, LA, or San Francisco, a very cheap direct flight on Allegiant Air will get you pretty close – to my hometown of Idaho Falls.
Like Kilimanjaro, your best bet is a guided trip, and considering that Middle Fork Rapid Transit is running a 2 for 1 deal for people who show interest before July 1, they're an outfitter you need to link up with even if this isn't an option for you this year.  I think the experience is worth full price – and that says a lot coming from a guy who doesn't pay full price for anything – but if you can get a deal and this is something you want to do, don't miss the opportunity.
Unlike Kilimanjaro, though, these guys won't be feeding you mystery African hotdogs and cucumber soup.  The food preparation with these guides was featured on Great Chef's outdoor program.  Despite being in the most pristine wilderness area in the lower 48, you're not roughing it out there… this is like "glamping."
If you're the slightest bit intrigued, check out the recent pics and reviews on the Middle Fork Rapid Transit Facebook page… you'll have every reason to start planning this now.
If that's not enough, if you're a WorldWanderluster, when you roll into our our hometown, dinner is on us.
Register for the 2 for 1 trip before July 1st.

2012 Summer Trip Dates
PRIME TIME (Couples trips earlier, family trips later)
July 1 – 8
July 14 – 19
July 22 – 27
July 30 – August 4
August 7 – 12
August 15 – 20
LATE SEASON (Lower Water for Fly fishing Enthusiasts)
August 23 – 28
August 31 – September 5
September 9 – 14
September 11 – 16