The Great Smoky Mountains on the border of Tennessee and North Carolina make an incredible destination. You'll see mountains, theme parks, cities, castles, and much more. I've been there twice, and still wouldn't mind going back again. Let me take you through a wonderful trip through the Smokies. This is a sample itinerary that will guide you through some of the best things to do.
Day 1 Knoxville: You'll need to fly into the TYS airport in Knoxville, Tennessee. They are serviced by Delta, American, United, Frontier, and US Airways. It is a relatively small airport, but is easy to navigate and not too far from town. Luckily, it is one of the Reduced Mileage Awards for those who have a Citi AAdvantage card, so if you find the SAAver award it will only cost you 17,500 miles instead of 25,000.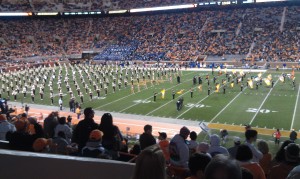 Knoxville and the surrounding area are beautiful. You're at the foothills of the Great Smoky Mountains, and you can see them from almost anywhere. The best time of the year to visit is late October or early November when the fall colors are incredible. Hopefully you schedule your trip so you can catch a Tennessee Volunteers game. Be prepared to dress in white and orange, as everyone else does. Hit up some tailgates, and don't miss Petro's Chili & Chips.  Cheer for the Vols and sing along for the song "Rocky Top," and you'll be part of the crowd.  Although I hate to admit it, the band was as impressive as the football team.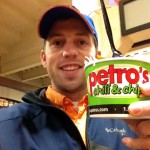 More than likely you'll arrive in the afternoon. Head over to the Country Inns and Suites which is close to the airport. This hotel offers a free airport shuttle and the best part is that this hotel will only require 9000 of your Club Carlson points. If you hit the most recent Big Night Giveaway then this will be free. There's not much better than that.
Day 2 & 3: Drive to Pigeon Forge
This day won't require much driving, but you'll still want to enjoy your free breakfast at the hotel and get on your way early.
Your kids will LOVE Pigeon Forge.  This place is loaded with activities for people of all ages.  The kids will enjoy Dollywood, your wife will enjoy the outlet malls, or your husband will enjoy one of the thousands of mini golf courses that dot the city.  You could easily spend a week in this city.
Dollywood is a theme park that is accompanied by Splash Park, which are both great places to visit.  Just like any other theme park they have rides for kids, teenagers, and adults.  They also have free shows that you can see throughout the day if you're tired of riding on the Tennessee Tornado.  The food is overpriced and they charge for every extra possible.
Your children will also marvel at the WonderWorks Museum, Titanic Museum, or the Nascar speed track.  Plan on seeing one of the nightly shows with the family that include Christian music, singing, dancing, and food.  We went to the Black Bear Jamboree and it was a great night of entertainment.  The food was mediocre, but the performance was fun.
Staying in a hotel in Pigeon Forge, TN is easy.  There are tons of hotels everywhere, but it seems like using the points there isn't the most efficient use of the points.  You can use Priceline.com or hotwire.com to book a hotel for the two nights that you spend there.
Day 4 Pigeon Forge, TN to Ashville, NC:
This is a very picturesque drive where you will pass through the Great Smoky Mountains Park.  Bring along your swimming suit if the weather is nice and plan on taking a dip in the water.  It definitely won't feel tropical, but the swim can be refreshing.  Watch for stopping points all along the way to let the kids get out and swim.
Gatlinberg is a fun town with an Alpine feel.  The main drag is filled with fun shops and great food.  Make sure you stop at the Pepper Palace, which is a store featuring more hot sauces and salsas than you've ever seen in your life.  Samples are free, and they ship back to your home.  If you're really feeling spicy eat some "Death by Salsa," but don't try it if you can't handle some heat.
Other activities to try in Gaitlinberg would be Ober Gaitlinberg for a aerial tram ride to the top of the hill, eat at the Pancake Pantry, or Ripley's overpriced museum.  Eat some Haagen-Daaz, and enjoy the scenery.  It truly feels like a piece of Germany.
Pack a lunch with you and plan on eating it in the park.  Cades Cove is an incredible stop, and could be paired with a number of hikes to waterfalls and beautiful scenery.  Hit up the 11 mile loop through the park that allows you to see the natural beauty of trees, and the scenery of "Last of the Mohicans."
You'll arrive in Asheville at dusk, and follow the directions to the Country Inns and Suites in Asheville.  Once again, if you've scored on the Big Night Giveaway from Radisson, this hotel will be 28,000 points and $0.  The hotel is going to have free breakfast again, so make sure you take advantage.
Day 5 Asheville, NC to Bristol, TN:
The Biltmore will be your destination for the day.  This palace will blow your mind.  George Washington Vanderbilt, who built it, had a ton of money handed down to him from his father and grandfather. It was built in the late 1800's and was very advanced with a swimming pool, bowling alley, and an elevator.
The grounds are almost as impressive as the home itself.  At its peak,it once covered 125,000 acres. Today the Vanderbilt family owns about 8,000 acres. They must employ thousands of people to care for the gardens, lawns, sprinklers, and so much more.  You'll also learn that the house was designed to be self-sustaining, so they had a winery on the grounds, a blacksmith, woodworker, farm, and pretty much everything else that you would need.  Today they still employ a blacksmith who does demonstrations of what a blacksmith did in those days.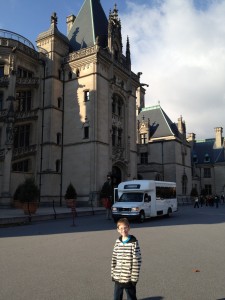 The Biltmore isn't a cheap event, but it is remarkable. Look for discounts and you might get your tickets for $50 per adult, otherwise they are $60 per person.  You normally wouldn't catch me spending that much money on one event like this, but this is a MUST SEE.   You'll be amazed at the technology, architecture, and beauty.   His library was one of my favorite rooms as it reminded me of the scene from Beauty and the Beast.
The food on the grounds wasn't too overpriced, but there isn't much variety.  They have a couple of small restaurants serving delicious food and pastries.  Today one of their largest restaurants is in the stable.
Once you've had your fill with the 175,000 square feet of luxury, head on the way to Bristol, TN.  This drive is absolutely incredible in the fall.  You'll see trees on both sides of the highway with rolling hills and the colors are breathtaking.
In Bristol you'll be staying at the Courtyard Bristol, TN.  Luckily because you scored the Marriott card then this place will only cost you 10,000 points per night and $0.  If you're planning on seeing a NASCAR race in Bristol, you'll want to book your hotel very early.
Day 6 Bristol, VA to Damascus, VA then back to Knoxville, TN:
I've never been to a NASCAR event, but the Bristol Motor Speedway is a famous racing location.  A lady in my office and her husband fly to Phoenix every year to watch a NASCAR race and each year they await the next race with great anticipation.  It is something that I'll definitely do in life, just not sure when I'll get to it.  Even if you don't see the race, you might be interested in seeing the race track.
Virginia Creeper: I know that riding a bicycle for 34 miles sounds dang near a marathon.  But if I told you that it was almost all downhill that wouldn't require pedaling, would that interest you?  A 34 mile track of what was mostly train tracks up a steep Virginia hillside is a wonderful ride.  You ride over valleys, bridges, rivers, streams, and through the woods on your trek down the hill.  It costs about $25 to ride the shuttle and rent the bicycle per person, but in the fall this is a breathtaking event.  It can be colder than Knoxville, or Bristol, so bring a jacket and some gloves.  Once you start on the path you won't have much cell reception, so be sure that you are ready for the ride.
Even if you have young children you can rent a cart for them to ride in behind the bicycle, or a tandem bicycle for younger children who might not be able to do it on their own.  The shuttle service brings you to the top of the hill and is a taste of the terrain that you'll pass.
Since you've still got a bundle of Gold Points left over from the Radisson promotion you'll stay at the Country Inns and Suites hotel by the airport for free, again.  It is only 9000 points per night here, so make this place home.  They also have a shuttle service to the TYS airport that is free if you've already turned in your rental car.