I was once asked which, of all the super powers, I would choose… if given the opportunity.
I didn't hesitate in my response: "Time travel. Nothing would be more transformative or educational than to skip back through time for history lessons, or into the future for a hint of what's to come. I could correct past errors and foresee future mistakes. I would meet the interesting and influential people and witness the great events throughout the ages."
I can't tell you how often I've stood in marvelous places with wonder and awe of how they came to be.  In my mind's eye, I'm taken back to a former time… a time before motors and modern tools… a time wherein methodology trumped technology, and clever contraptions quenched quandaries.
If only I could experience what it was like to live in that time, to witness with incredulity the erection of monumental buildings, and moments which have shaped history and humanity alike.
Ahhh… but there is.  At some point, WorldWanderlusting will debut a series of Living History museums which will provide exactly that kind of experience.  For now you'll have a taste as we show you what's happening at the Chantier Medieval de Guedelon, just two hours from Paris, France.
"In the heart of Puisaye, in Yonne, Burgundy, a team of fifty people have taken on an extraordinary feat: to build a castle using the same techniques and materials used in the Middle Ages.
The wood, stone, earth, sand and clay needed for the castle's construction are all to be found here, in this abandoned quarry. Watched by thousands of visitors, all the trades associated with castle-building – quarrymen, stonemasons, woodcutters, carpenters, blacksmiths, tile makers, basket makers, rope makers, carters and their horses – are all working together to complete the castle."
I am ashamed that I know this place only by photos.  My only visit to France in the past five years was a 7-hour stopover en route to Amsterdam, en route to Tanzania.  It barely allowed for the Eiffel Tower, Notre Dame, Louvre trifecta.  I have, however, avidly tracked the progress via the multimedia profusion on the Guedelon website and facebook page.
Of particular intrigue was the documentation of the groin-arch-construction, something at which I've gaped more than once in more than a few spectacular buildings.
Masons cut no corners as every tool they use is "of the era" and fashioned on site.  These are not actors on stage, these are artisans at work.  Even their clothing is authentic.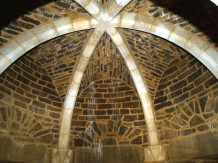 The team, or various versions of it, has been at work since 1997, when all that existed of the project was a dream in the mind of Michel Guyot.  For 15 years, they have toiled in an effort which likely pales in comparison to many of those of its time, yet still inspires a sense of amazement that none of us will fully grasp until we get there in person… and please, please let it be soon.
If I go by their timeline, I have to be nervous because not really much remains relative to where they were when it began.  This project has to be nearing 80-90% completion, so time is really running out.
I could go on and on, but for me to try to do so simply would not do it justice.  Your only hope is to engage the project yourself, see what they're doing, and plan your visit.  I can't even believe that the charge to partake in this slice of history is a mere ten euros… and with the euro crashing, it's time for me to get serious.  Here are just a few more quick links to get you inspired to see this masterpiece while it's still under construction.