A few months ago I wrote a guest post for friends of ours at www.1000fights.com, an excellent travel blog for couples. I told the story of my fight with Mount Kilimanjaro.         -Brad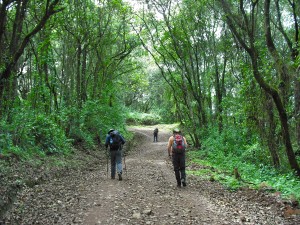 Her name, so utterly foreign yet bitterly familiar, still invokes Dickens'ostensible opposites.  To reproduce it from my lips freshens my mind with rivaling sensations of joyful enthusiasm and painful failure. Kilimanjaro.  This is the story of my fight with her.
We met at Machame camp in Tanzania – our first date was a steep climb through lush rainforest was complete with monkeys, vines, and the two interacting in a natural manner.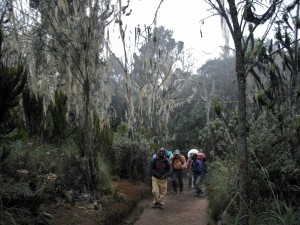 Though it was challenging, I was vigorous and her beauty and charm were intriguing.  As our day's journey slowed to an end, a taste of what to was to come arrived in the form of an eerie aberration – the landscape transforming from thick and green to misty and moss-strewn. Nonetheless it still had a strange allure, and camping just below the cloud layer offered a romantic sense of vulnerability.  I admired her.
The second day brought an initial victory – plunging through a dense layer of fog, any temptation to attempt a retreat changed from the prospect of a leisurely downhill path, to a seemingly impenetrable floor of clouds.  It was easier to go on.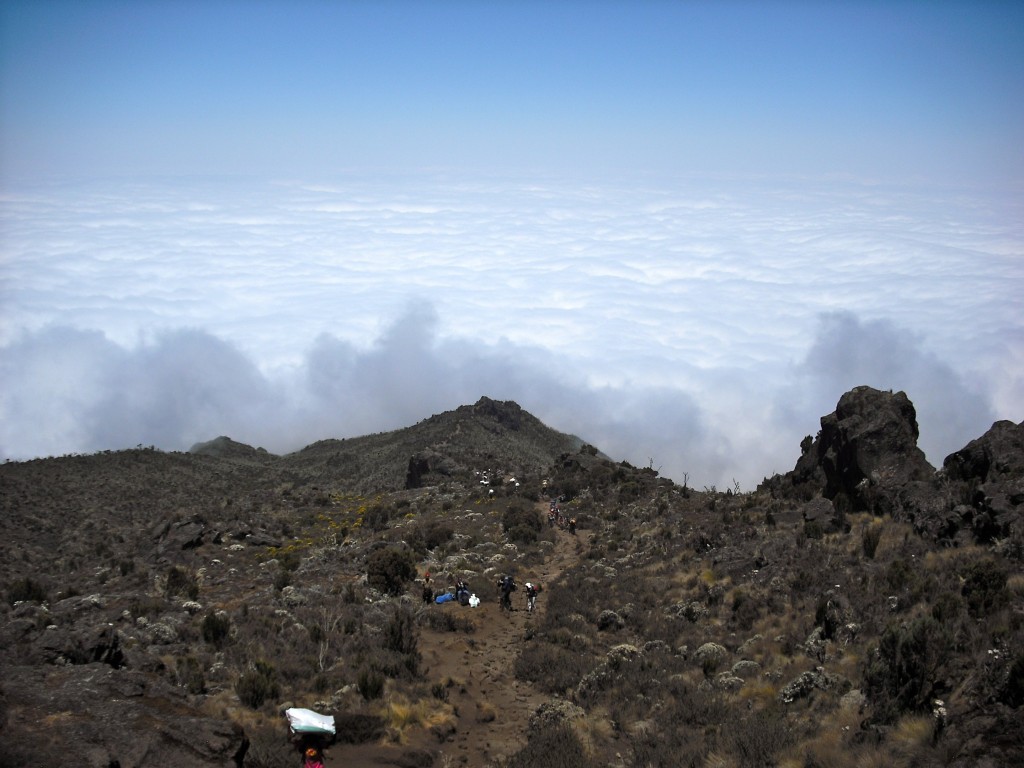 She was ruthless and uncaring as the slope sharpened.  Plant life was sparse and the air thin as we crossed through 12,000 feet.  I found myself out of breath – not only in awe of her splendor, but also aghast of her cruelty. By the time we arrived at Shira camp, I wasn't interested dinner -African hot dogs and semi-fresh vegetables, preferring instead to rest. If she had embittered me with her heartless grind throughout the day, I forgot it altogether when she rewarded me with the most brilliant sunset these eyes have ever beheld (the sunset which now greets visitors to www.worldwanderlusting.com). I loved her.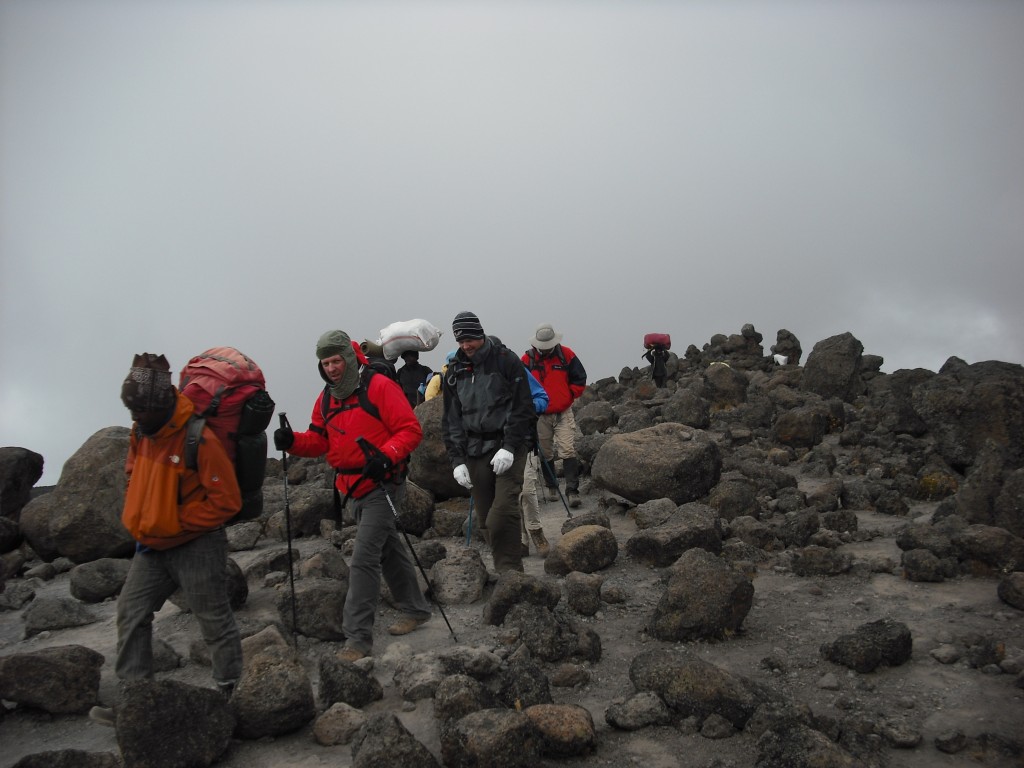 Given the austerity of the scenery on the third day, I should have known she would eventually break my heart.  I may as well have been on the moon.  There was a cold, fierce wind.  Vegetation went from scarce to non-existent, along with oxygen, and my aching muscles were letting me know.  My heart in particular, having to beat at twice its normal rate to oxygenate my blood, literally felt like it would beat right out of my chest.  I trudged in the shadow of the peak – she, staring down on me with contempt, yet I, at her in admiration. By the time we arrived at camp it was dark – a blessing.  Had I been able to see what the next morning would bring, I would never have awakened.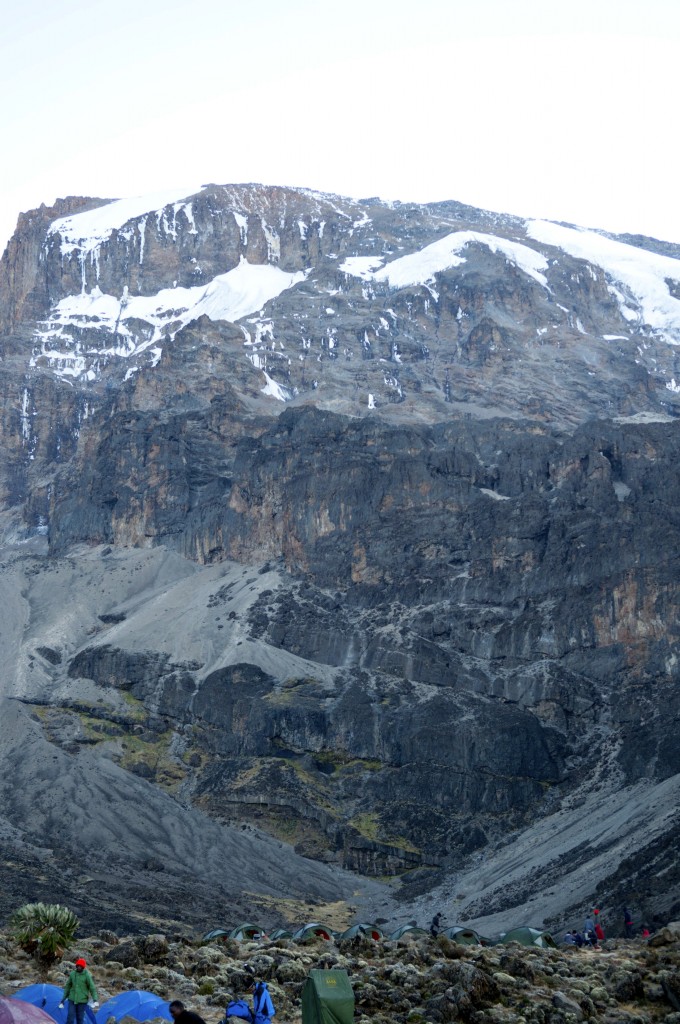 Barranco wall engulfed the entire panorama – not saying "good morning," but saying, "I'm insurmountable." I believed her.  Lines of porters, like ants, weaved their way to its crest; identifiable only by the white bags they carried on their heads.  I set out, no longer greeting fellow climbers with a cheery "Jambo," but with a disgusted sigh.  At the top of Barranco I felt no joy, only the obligation to continue.  If I allowed myself, I could feel satisfaction – even a thrill, but I couldn't.  I felt anguish.  It was an endless cycle of descent before inevitable ascent.  Torment.  The climb to Barafu, the final camp, I made only with the motivation of cursing her through clenched teeth. I hated her.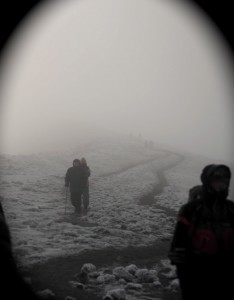 With only a few hours to rest before we began the summit at midnight I had little sleep.  Donning arctic winter gear and headlamps for our final encounter, I set out in conquest with a shard of hope.  The altitude was taking its toll and nausea set in along with muscle cramps.  I wretched.
Still, I pushed along for 3 hours in the dark, each footstep barely ahead of the last, progress coming at great cost.  My body was revolting.  When I could push no longer, 1700 vertical feet below the summit, I stopped, stared up at the moon, and collapsed.  I despised her.
And though she conquered me, stole from me all that I could offer, and left me hungry and wanting… I love her still. She respects me still.  And neither of us will concede that we've seen the last of each other.