Shae and I were married in May of 2008. On Thursday we will celebrate our fourth anniversary together. I always tease her and tell her that they have been four L-O-N-G years, but it is only teasing as these years have been incredible. We've had many adventures, and can't wait for more. Last year we welcomed our little boy Max into our family and it has been incredible.
For those who know me all know that I'm a very frugal person. I also love traveling. Most people would probably say that those two don't mix, but I have been able to prove them wrong. When I first met Shae I told her that she needed to have a passport in order to be married to me. 🙂
Our honeymoon was a quick trip to Vegas, but we hadn't been home from our honeymoon for two weeks before we spotted an amazing fare to Panama. I had never been there, but the $230 round trip fare was something that I couldn't resist. I had previously promised that we would take an international trip within our first year of marriage and this was the chance to deliver.
Brad posted yesterday about Eight Great Things to do in Panama. He posted about some of the amazing things that we did while we were on our trip in June of 2008.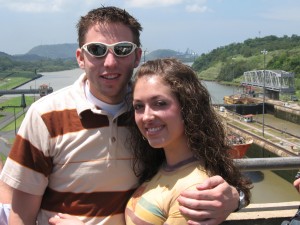 The locks at the Panama Canal were amazing.  Although it is millions of gallons of water they only take a couple of minutes to fill up.
They also taught us that the water is slowly leaving the canal and going into the ocean  each time the gates open.  This could cause problems in the future if they don't come up with new ideas.
Currency
Even though Panama is a foreign country they still use the US dollar for their currency.  Shae's first trip outside of the country and she didn't even get to deal in another type of currency.  Although it can be stressful looking into exchange rates, finding ATM's, and banks it can be fun.  There is nothing like having your wallet full of Dong, Rubles, or Colones.
Hotels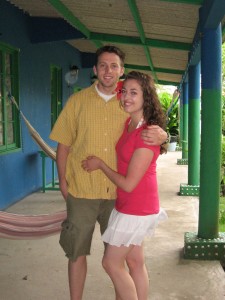 Most of our trip was planned out before we left, but we hadn't booked any hotels.  Places like Isla Grande don't have any Marriotts.  For Shae it was quite an experience staying in small hotels with mosquito nets.  She also had her first run in with hotels that didn't even have a heated shower.  Luckily Panama isn't short of heat, so a cold shower felt nice.
The snorkeling was great and the lobster for lunch was incredible.  Prices were very reasonable and our lunch was on a pier.  Shae was experiencing small town travel.  Most hotels had hammocks outside so you could lounge in the shade and enjoy a cold Coke.  Those are two of my favorite activities when traveling to other countries.
Food
I'm usually not much of a fish eater, but when I'm close to fresh fish I'm much more likely to eat fish.  They usually pair the fish or chicken with beans and rice.  Those are staples in the central american countries.  The Coca Cola is incredible too.  You can find that stuff almost anywhere in the world.  Shae definitely wasn't accustomed to that food, but it did grow on her as the time went on.
San Blas Islands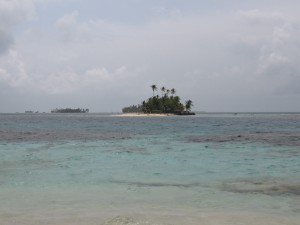 Brad already talked to you about how cool these islands were, but it still won't do justice until you've been there.  Our trek out there was definitely an adventure.  When we showed up in El Porvenir, Panama we were expecting quite a few commercial boats that could take us to the islands.  What we found was something quite different.  It was a very small fishing town with one restaurant.  My wife thought we were crazy when we convinced a fisherman to take us in a small fishing boat out to the islands.
Once we arrived at the islands she was convinced it was a good idea. The water was crystal clear and the beaches had white sand.  It was quite different than the California beach, which she had only seen twice.  The warm Caribbean sun was so inviting and the water was very refreshing.  She was hooked.
Our Panamanian experience was unforgettable.  When the rates dropped the other day to $330, we knew it was time to go back.  We also knew that it was time to take our little boy to Central America too.  If only he could somehow remember it, but we know that pictures will be our only evidence.
Today
Since Panama I've taken Shae to 20 countries.  She has been bit by the travel bug.  When traveling to other countries you might have to shrug off a few small things, but for the most part things are the same.  Seeing people who live different lives is very interesting to me.  I love to partake of their culture, eat their foods, and shop in their grocery stores. This sometimes gives you a feel for what it is like to live in that country.
Shae used to feel a bit nervous about international travel, but now it excites her.  The fear has subsided and the excitement has taken over.  This is worldwanderlusting: Enjoying and experiencing other cultures.  If you've ever had the desire to do these things, don't hesitate.  You can register for the Club Carlson Promotion to help you build up an arsenal of hotel points, which will in turn save you $$ to make your trips both more affordable, but more importantly more often.