This is our second guest post in our series on Budget Utah Travel Excursions – something fairly localized, but you may be able to do something similar wherever you live.
Round two, everyone. We're glad you enjoyed our first post about how a family of five could enjoy a vacation for less than $1000. We took you through Canyonlands, under Arches, and got you reminiscing about days when dinosaurs roamed the earth.
Now we'll see what we can do about getting  you out from behind the wheel of your car. Heaven knows that the last  thing you need for "vacation" is a roadtrip with your kids. Obviously,  this idea will involve some driving, but not near as much as last time,  and involve another, more unique form of transportation – riding the  rails.
We've always subscribed to a system of travel that includes  education – it makes the experience that much richer. Before our last  little loop, we watched a Netflix video on erosion. We took the kids to the library and checked out books on  dinosaurs, and our Easter gifts were themed for the journey – an  archaeologist kit, a "build your own volcano," and a butterfly net. For my own purposes, I watched "127 Hours." Nothing makes a trip more  rewarding than being able to anticipate things you've read about.
Now, I'd urge you to start playing "Ticket to Ride" on family  nights, DVR "Thomas the Train," and go out and pick up a copy of Steven  Ambrose's "Nothing Like it in the World: The Men who Built the  Transcontinental Railroad." (Amazon.com has it for a penny before shipping) Between 1863 and 1869, the United States transitioned its focus from  preserving North/South unity to establishing East/West unity. People  knew that such a connection would unbridle economic growth on an  inimaginable scale – and that's exactly what it did. In order to make it happen, two companies set out to build. The Central Pacific Railroad  started from California headed East, and the Union Pacific worked its  way West from Nebraska. In a monumental effort that put progress at a  greater premium than cost and even life, they sometimes laid as many as  8-10 miles of rail per day (most days I don't even walk a quarter of  that).
Interesting, but why do I have you reading all that? Because as  those two teams worked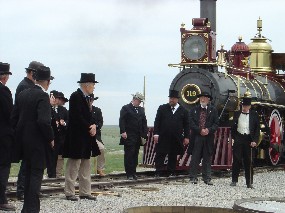 (and competed), the inevitable point of  connection became the state of Utah. With Mormon pioneers contracted  for labor grading and tunneling through Weber River Canyon, the eventual junction became Promontory Point, and on May 10th, 1869, they drove  four golden spikes in a ceremony that was broadcast via telegraph – the  click of the pounding of the spike being the message in itself. East/West journeys were reduced from six months of toil and danger to  one week of relative comfort.  If the thought of seeing this in reality is intriguing, wait till I tell you that they reenact it every Saturday starting the first of May. It's $7 a vehicle, or free if you picked up the NPS Annual Pass on our last little jaunt.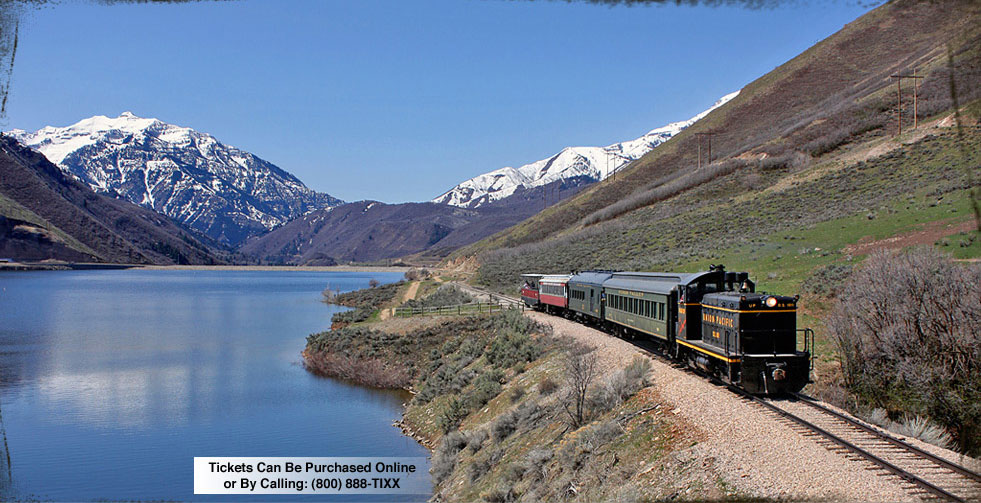 Now, it just wouldn't be right to get this enthusiastic about trains and then not take the opportunity to get aboard. Luckily, Heber Valley Railroad has 16 distinct excursions, one of which is bound to fit your family. For  the little ones, you could opt for the "Day out with Thomas." If your  kids are a little older, maybe you'd want to do the "Reins and Trains,"  which also includes a horseback ride. These trips aren't exactly a  bargain but every once in a while, they offer gift certificates for 50%  off.
Now, to complete this train-travel-trifecta, make a visit to the Union  Pacific Depot
Building at Gateway Mall in Salt Lake City. Chances are that you've seen the historic building on your trips to the Gateway before City Creek turned it into a ghost town, but now that you're a train aficionado you'll  have a greater appreciation for the history contained within this building. All of the sudden, the ceiling mural depicting the driving of the Golden Spike has much more meaning to you.
We hope you've enjoyed the second in our series of Utah budget family vacations. If you're a cost-conscientious world wanderluster in need of travel tips, please bookmark our site and visit us often. If we've inspired you further and you're curious about using travel points to book with Amtrak, check in on this other post and wanderlust with us.