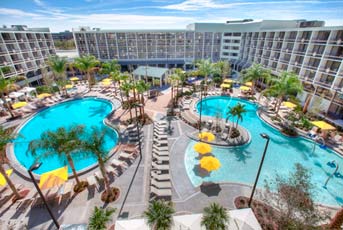 We'll start with this: You can stay at this Sheraton Lake Buena Vista Resort for 3,000-4,000 Starwood points per night. Keep in mind that this hotel offers a free shuttle to Disneyworld, which saves you from the 30 mile hike from your car to Disneyworld.  What that means is that you can only stay 8-10 nights for free with the 25k SPG points you'll have after applying for and receiving (10k) the Starwood Preferred Guest® Credit Card from American Express, meeting the spending requirement (5k) and getting the bonus (15k). The "catch" is that you do have to spend at least $5,000 on the card within the first six months of having it.
Maybe you're warming up to the idea…after booking 18 free nights in various hotels over the past couple of years, I can tell you that we're more than warmed up to it… we're burning with the wanderlust.
Now, how will you get there? The best rates on flights we're finding from Newark to Orlando are Southwest's "Wanna Get Away" fares for $114 each way. Paying cash you'd be up to $1150 for the five of you. But we don't like to pay cash.. it's not enough to fly cheaply… we like to fly for free. Southwest lets you redeem their points on "Wanna Get Away" fares at a rate of 60:$1, so you'd need about 69,000 of them. We'd suggest that you get 43,000 of them from transferring the Chase Ultimate Reward Points you get as a bonus on the Chase Sapphire Preferred Card (with a $3,000 minimum spend). You're on your own for the other 26k unless you want to pick up the same card for your spouse. (Something we've made a habit out of). In that case, you could use the remaining points to book yourself a rental car, transfer them to Amtrak to complete your commute, or start planning your next free vacation.
If you're not Disney-drooling yet, then we're not doing our job. We don't want to stop there, so we'd also recommend that you check in on the Orlando Craigslist to pick up some park-hopper passes at a nice discount (as always beware of scammers).
Related Posts:
Don't Forget to Like us on Facebook and Follow us on Twitter: