Wild Bill Hickok. Calamity Jane. Black Hills Gold.
Legends.  We've all heard about them and we've found them interesting, but get yourself to Deadwood, South Dakota and you'll be filled with intrigue.
I stumbled into Deadwood by accident while making the rounds through Wyoming on a work trip.  Having recently bought a motorcycle, Sturgis had suddenly become interesting to me.  Yet, I couldn't be entertained for any more than an hour in the sleepy month of April (or any other month besides August, for that matter).  While I've been told that the road along Spearfish canyon is among the greatest scenic byways in the country, I arrived by way of Sturgis.
I've been to dozens of old mining towns, and, in fairness, I've loved them all.  There's simply something scintillating about gold-boom-towns out West, and few have a better story than Deadwood.
Right about the time of General Custer's last stand in the Battle of Little Bighorn, the gold, for which the dispute with the Lakota Indians arose in the first place, was being found in the creeks and gulches of the burned-out Black Hills.
As these things have a way of doing, the opportunity drew hundreds of prospectors and even more "prospectors of prospectors" – to include gamblers and prostitutes among other vice-vendors.  One of those drawn in was a Union soldier who had made a name for himself as an actor in a traveling Wild West show, among other notable activities. Wild Bill Hickok, they called him.
As much as Wild Bill was known for how he lived, he may be known even more so by how he died.  In the midst of a poker game at Saloon #10, Hickok was assasinated.  The cards in his hand became known, infamously, as "Dead Man's Hand:" Two Pair, Aces over Eights.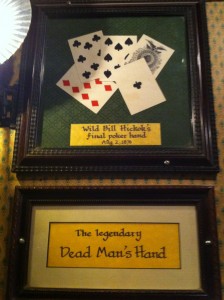 The stories extend like the branches of an overzealous bush, and to recount them all would be tedious, but suffice it to say that Deadwood is a unique oasis of Wild West history – far richer with meaningful stories than many more-popular venues.
A self-guided tour of Deadwood will insert you directly into the stories, from sitting in Saloon #10 to standing near Hicock's gravesite in the cemetery atop Mt. Moriah overlooking the small town.  You can partake in a poker game of your own (without the bitter demise), or pour over artifacts in the Adams Museum. I will offer a "no disappointment" guarantee, especially if you couple this visit in with a tour of nearby sites – to include Mt. Rushmore, Sturgis, and Devil's Tower.
We don't have any secret methods of free hotel stays in town, but the benefit of casino towns is that they tend to run on the cheaper end of things.  I guess I'd urge you to reserve your stay at www.Hotels.com where you'll lock down a free night for every 10 you  book. (The secret there is that you get the benefit regardless of whether you actually stay.  Thus, if you're booking for your non-wanderlusting friends, take advantage by using their stays to get you free ones.  Isn't that what friends are for?
If you decide make Deadwood a destination, pop in on www.Deadwood.org  and see what else you might find there.
Keep up to date on your credit score by using Credit Sesame.