Before we begin today's wanderlustful adventure, let me just set an expectation for you that somehow I hadn't previously anticipated: if you're foolish enough to schedule a flight that arrives at midnight, you must expect that the only remaining rental car on the lot will be a baby blue minivan. Yes, I've foregone my claim to manhood and despite eating delicious and masculine East Texas BBQ beef brisket, each time I step back into it, I descend further and further into the shameful world of van drivership.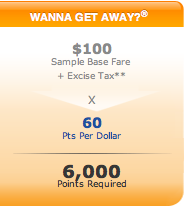 What I'm not ashamed of, though, is the $264 "Wanna Get Away" fare that got me from SLC to HOU. As this is a work trip (yes, my frugality does extend to work trips) I paid for it with cash, not points. But what gets really exciting is to consider what I could have done with points. Southwest has gotten very generous, particularly with reward flights on "Wanna Get Away Fares." Each dollar of the ticket value requires 60 reward points. For example, my $264 flight would have cost me a measly 15,840 points. Stop choking. This is for real.
Am I telling you that 50k Southwest reward points could get you three round trip domestic flights!? Yes, worldwanderlusters, that is what I'm saying.
But wait a minute, does that mean we could apply for the Chase Sapphire PreferredSM card  and then magically transform those points into Southwest Airlines points? Yes, Worldwanderlusters, that is what I'm saying.
Uh-huh, your 50k UR points are worth roughly $834 in SW "Wanna Get Away" fares.  Is that better than the Chase Southwest rewards card? Why, yes, in some cases it is.
How could it possibly be better than that? Keep in mind that you can also pick up another 50,000 Ultimate Rewards Points from the Ink Bold® Charge Card.  Two tiny inquiries on your credit for $1,668 in airfare on an airline that allows you to check TWO bags for FREE.
Does that mean that you, too, could be eating beef brisket and driving a baby blue minivan around Houston? Yes, Worldwanderlusters, that is what I'm saying.