One of the stops we'll make on our Western Caribbean cruise in March is Belize City.  It will mark my second visit to Belize, and it will be hard to top in ten hours what we did last time in ten days… even so, we'll try.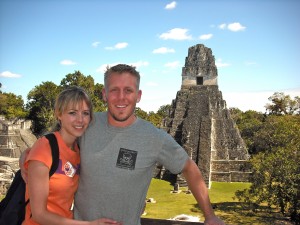 Our last trip was an epic trifecta.  We spent roughly 3 days in the San Ignacio area, visiting Tikal (across the border in Guatemala) and partaking in more than my fair share of soy ice cream.  My brother's father-in-law, an incredibly interesting tour guide, then took us on an excursion deep into the jungle.  If that weren't enough to make memories for a lifetime, then my wife and I went out to Caye Caulker, where we learned how to scuba dive.  Someday I'll tell the story in a better format (complete with pictures and the rundown on how I booked the flights for $240 round-trip from SLC (yeah, no typo).
But for now, I'll try to limit my wanderlusting to the ten hours we'll have in Belize.  We've got a good-sized group going, so I arranged to rent a 12 passenger Hyundai Van from Budget Belize for $105 for the day… not a bad deal for what is essentially a bus.  Our timeframe is tight, so they're meeting us at the cruise terminal, ready to go.
We'll drive to Teakettle Village, a little over an hour away, where we'll meet up with our tourguides, PACZ Tours, for the adventure which I'm sure will be the marquee experience of our trip – the Actun Tunichil Muknal Cave tour.  I doubt if I'll be able to improve much upon the description of the experience they offer in their overview, except to say that it combines all of the elements of travel that keep me thirsting for more and more: cultural/historical significance, awe-inspiring natural beauty, and adventuresome physical exertion.  After a hike through the Belizean jungle, we'll swim into the darkness of the mouth of a cave system that it will take some three hours to traverse.  The highlight of our journey will be to view the crystallized skeleton of a teenage sacrificial victim – known as The Crystal Maiden.  
I've hardly scratched the surface of what the experience will entail, but I can tell you that anticipating it, along with everything else we'll do, does occupy a good 10% of my subconscious mind at any given point.
I've already bragged about how I'm getting to New Orleans for the cruise for $10 and 25k miles which I got from applying for the Continental One Pass card (which we've been advertising at the top of our blog for some time, now).  Obviously I'd welcome you to do the same thing.  Or you could also consider using 35,000 miles to get directly to Belize City – a launching point for this and many other unforgettable adventures.
Here's the rundown on the Continental Card: