I mentioned the cold winter as a wanderlust inducer.  It's actually been pretty nice so far, though I know that at some point in Jan/Feb I'll be dying to get some sand between my toes.  Tina's photo will provide some solace at that point, but it would be even better to see myself on this beach.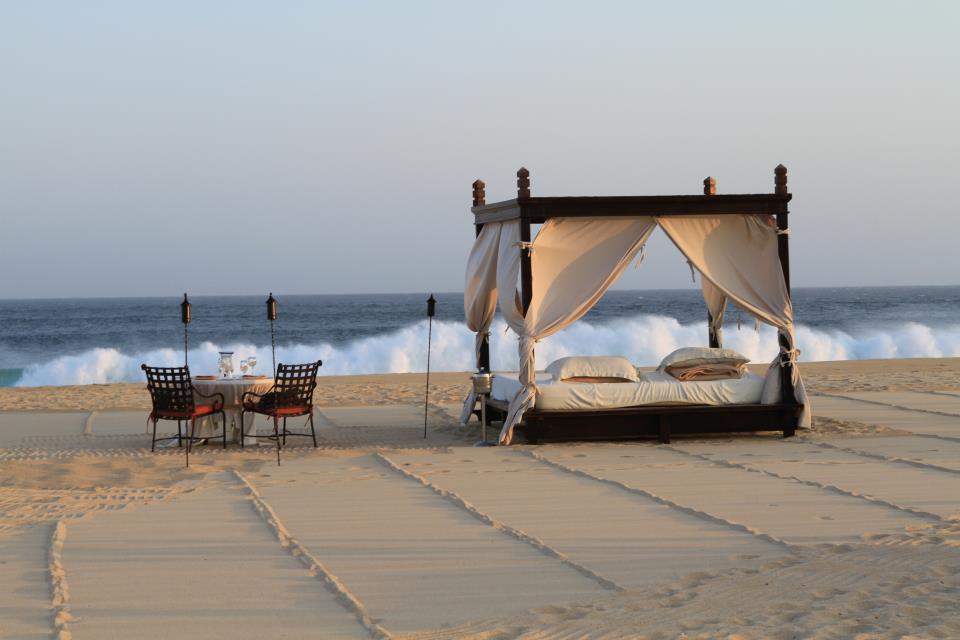 This is extraordinarily convenient, as well, because a good friend of mine was just asking for a recommendation on an all-inclusive resort to celebrate his anniversary later this month.  Admittedly, I haven't been an "all-inclusive" kind of guy – but that's mostly because I've always seen them as being over-priced and full of tip-grubbers.
That was before I found my way to www.vacationstogo.com.  I've talked about it before as a great place to score a cheap cruise, but they do the resort thing, too.  I wanted to put together some options so I did a search and came up with some surprisingly cheap options at some incredible places.
Somewhere around $500 will get a couple 3 nights in a worry-free Cabo San Lucas paradise – complete with food, fun and entertainment. Take your pick, but I dont think you could go wrong with the Royal Solaris Los Cabos Resort.  The three night weekend stay at the end of January I checked in on was priced at $478 – and no, that's not per person, that's for the couple!
If you're having a hard time justifying so frivolously spending $500, you could opt to exchange the 50k Ultimate Rewards Points you get from the Chase SapphireSM Preferred Card  for $500 in cold hard cash.
The Flights
I'm going to give it to you straight… for whatever reason, unless you're in Los Angeles, flying to SJD (Cabo) isn't cheap – which is why you're going to need some frequent flyer miles.  If you were going to Cancun, I'd say buy your tickets – they get pretty cheap.  But since we're talking Cabo, I'm hoping you've got some American AAdvantage miles – 35k from the US with plenty of winter availability. If you haven't gotten them the old fashioned way, you could look at this offer for 50k miles on the AAdvantage Citi Select.
The Wrap-up
I really hope it doesn't sound like we are foisting credit cards on you disrespectfully.  We fully realize what an asset it is to have good credit. Please check out our Before You Apply post along with the Doesn't it Hurt my Credit? post. I know that just because you're wanderlusters doesn't mean you're ready to gamble with something as important as your credit score and the last thing we'd want is for people to be irresponsible in their pursuit of glorious travel destinations.  I can tell you, though, that it can be done responsibly. In the past year and a half I've applied for 7 cards (+6 for my wife) and my most recent credit evaluation from Credit Sesame, a totally free credit monitoring service, has my score as high as it's ever been.
We also hope to be adding value and inspiring you whether or not you ever elect to take the credit card FF miles route.  In full disclosure, we do get paid a commission when you use some of the links on our site.  It helps me justify the time I spend to my wife as I neglect my honey-dos.  More than anything, it is very satisfying to see so many people catching on and flocking to our blog.  Thank you for taking the time and please stick around.  Don't hesitate to comment and send us questions.
Chase Ink Bold Card for Business gives you 50k Ultimate Reward Point bonus after meeting the $5000 spending requirement in 3 months.  Click the card for terms and conditions.