Our readers were kind enough to inundate us with stimulating pictures entered into our Facebook Page Photo Contest from their travels, now we're hoping to pay the favor forward.  You've seen the photos and now you're wanderlusting, we'd like to show you how to put yourself in these places.
Thanks to Alise for showing us the beautiful picture of the chimneys of Edinburgh, now… let's do what we do at www.WorldWanderlusting.com and get there by prudently using your good credit to obtain travel reward benefits.
First things first….The flight
I've searched through each of the frequent flyer mile programs and it looks like the best program for getting to Europe will depend on your origin.  Every once in a while you can get 40k American AAdvantage miles to take you to select places in Europe, but more often than not, you'll be looking at closer to 60k – and we haven't been finding offers that will get you that many points all at once here recently.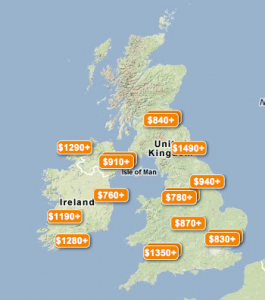 We're finding that your best bet to almost anywhere in Europe, though, may just be to load up some Ultimate Rewards points. The Chase Sapphire PreferredSM and the Ink Bold® Business Card will give you 40k and 50k Chase Ultimate Rewards points respectively. These can be used as cash towards airfare at a rate of 1.25 per 100 points. By the time you meet the spending requirements, you'll have at least 43k or 55k points (or 108k if you opted for both). Then go to Kayak's Explore Tool and see what flights land near Edinburgh and when they might be available.
I did a quick search and saw that $787 will get you into Manchester in February. The 53,000 points can be redeemed for $662 in airfare. So if you can cough up the difference – a measly $125, you'll be on your way.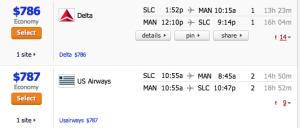 This is sounding good, but it's about to get even better. Because you're using the Ultimate Rewards points, you'll also accrue frequent flyer miles. According to Milecalc's website and found that a flight from SLC to Manchester would rack up  around 10,660 more miles. Do this twice with most programs and you'll be well on your way to anotherl free flight within the US.
The best part is that you can apply for a new Chase card every 30 days.  So you could score the Chase Sapphire PreferredSM and then wait until you had your spending requirement met, then get the Ink Plus® Business Card to cover for two people or the entire trip the first time around.  Your spouse could apply for both cards too, then you could take your family of four to Europe for $500 ($125 x 4).  Keep in mind that this excursion would score you 42,640 FF miles as well! (10,660 x 4).  I don't know about you, but I'm sweating.
Hotel
As a bonus, then, you'll get to enjoy the drive from Manchester to Edinburgh.  I'm sure that Alise could testify, as the pictures demonstrate, there are some breathtaking sights. Just remember to drive on the left side of the road. Staying downtown in a large city will usually require more points or dollars. So, sometimes it is better to look a little outside of downtown. I've looked up a few hotels and here are a couple of ideas on where to stay.
Sheraton Edinburgh Grand Hotel and Spa.  This place is $200 per night if you were to pay full price. I discovered that it belongs to the Starwood Preferred Guest family of hotels. This particular hotel requires 10,000 points per night to stay for free. Ouch. That is a lot of points. I would recommend the Cash & Points option.  This will cost you 4000 points and $60 per night.  I think this is a bargain because you're getting an amazing hotel at an incredible location for only $60 per night. The current offering from the Starwood Preferred Guest® Credit Card from American Express. Apply now. gives 25,000 bonus points after meeting a $5000 spending requirement witin 6 months.  That leaves you with 40,000 points that would last you a long time staying at this place.  Unless you'd like to try out www.couchsurfing.org, I think that this would be the best option.
Alise's picture has definitely inspired me to get to Scotland. I'm thinking that it would be a great place to visit during the summer or even the winter. Hopefully this post has inspired you to plan a trip and make it happen. Stay tuned for play-by-plays on how you can get to some of the other amazing destinations.
Nothing pains us more at WorldWanderlusting.com, than hearing "I'd love to travel, I just can't afford it."  We write about inexpensive ways for people to get to places they had only dreamed of.  Follow us on Facebook or check out these other great posts:
Wanderlust with us.