I'm getting pretty excited as I check out my Starwood Preferred Guest Statement these days.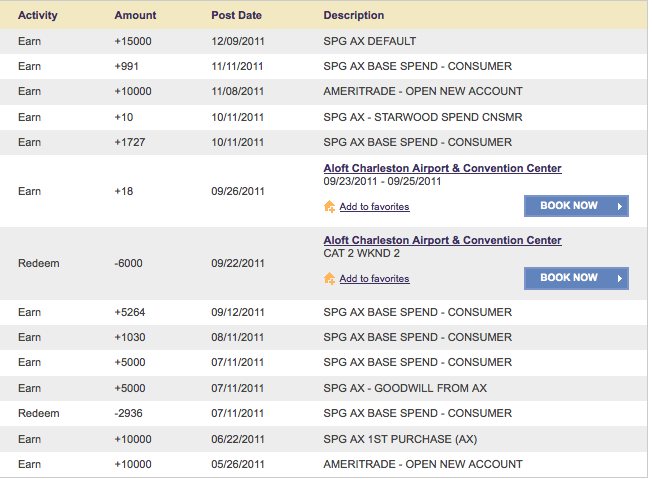 As you can see I've reached about 55,000 SPG points. I got 30,000 from the short time promotion that American Express did on their Starwood Preferred Guest Credit Card, with an additional $15,000 in spending that I had to do to get the thing. That put me up to 45,000. I also scored the TD Ameritrade Starwood Bonus for depositing 25,000 into a TD Ameritrade account.
Using the SPG points in Charleston, SC was awesome! Booking it was easy, check in was easy, and they treated me like a king! They gave us free breakfast in the morning one day and were very friendly. I didn't even pay the lame 20% tax it seems like everyone has to pay when you stay in a hotel somewhere.
As soon as my 9 months minimum are up with the TD Ameritrade deal I'm going to open a new account under my wife's name so I can get her 20,000 more Starpoints. This amount of points will give me enough so I can Exploit My Credit Cards to Explore Europe.
My wife also got the SPG Amex with the 30,000 Starpoints bonus and her minimum spending was only $4500. We easily cleared that bar and built her account to almost 35,000 Starpoints. Between the both of us we are at about 90,000 Starpoints. That is building an arsenal, and I can't wait to use them up.
Club Carlson
About a month ago I blogged about the Club Carlson offer of what they called the Radission Big Night Giveaway. It offered you 50,000 Club Carlson Points if you stayed one night in a Radisson Hotel by the end of the year.  It just so happens that Salt Lake City has two Radisson hotels and that is a perfect distance from me to have a little weekend getaway.
We are still basking in our Capital One card that did the "Match My Miles" promotion.  We still have about 1600 in spending however we want to spend it.  Luckily we can get these two nights for free, and then bask in 100,000 Club Carlson points while staying for free as a result of the Capital One card.
I booked a night in the Radisson Airport Hotel for Friday night, and my wife booked the same hotel for one night on Saturday night.  This means that we will hopefully keep the same room, but we will be allowed to both earn 50,000 points from the above mentioned promotion.
I just clicked on the link and it didn't say if the offer was still valid.  I would at least register for the promotion, then call Club Carlson to see if they still offer it to you.  If so, book a room and then wait for the opportunity to use the points.
Keep in mind that they expire if you don't use or gain any new points for 2 years.  No problem, that gives me a reason to burn them up in a trip!!
Summary
So with a couple of small promotions and an couple of hours worth of work I've probably scored about $1000 in benefits.  I can't wait to use the arsenal and keep building.