The very idea of a bridge is a metaphor for the progress of humankind.  It is our very nature to deny the impossible – to make impassible passible.  We chose these eight amazing bridges as travel destinations for you to add to your lists.  If you've been to one, please comment and share your story.
Bridge of the Immortals -Huangshan Mountains, China
Envision isolated granite peaks, spotted with gnarled, ancient trees and shrouded in mist. Now add a carefully crafted stone arch spanning the gap to connect tunnels through the two grey shafts of rock. Aptly named.  Here's a visitor's impression.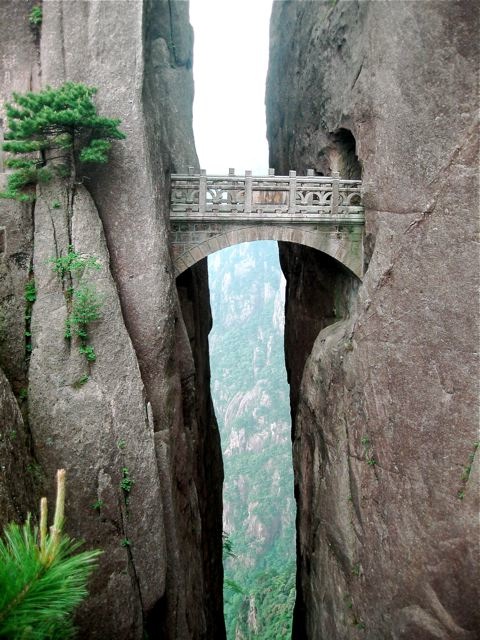 London Bridge – Lake Havasu, AZ
No, strangely enough, that's not a typo.  You'll recall the old childhood song… but would you believe that they dismantled the thing and reassembled it in Lake Havasu, Arizona?
In 1971, Robert McCulloch, proprietor of the planned community of Lake Havasu, purchased, shipped and reassembled the the bridge which once spanned the River Thames in London.
Carrick-a-Rede Rope Bridge – Northern Ireland
Perhaps it's a bridge, essentially, "to-nowhere."  It's not like this bridge has been used to march troops, or enabled commerce,  It's not the most historic bridge there is, but beauty it does have.  Who wouldn't want to picnic atop the grassy mounds of this rocky outcropping?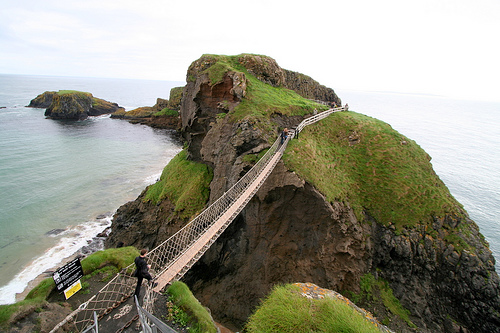 Las Lajas Cathedral – Nariño, Colombia
Could it be possible that this bridge could also eventually end up on a WorldWanderlusting "Eight Great Cathedrals Around the World" post?  Yes, very likely. Whether you look at it as a bridge, or a cathedral, or both, one thing's for sure is that it is absolutely amazing.
Tower Bridge – London, UK
I know it's not a picture that properly features the Tower Bridge, but since it is one that I've actually visited, I had to use this one.  Right nearby is the Tower of London, where you can see the Crown Jewels of England, and give yourself a sense for what London once was.  The Tower Bridge is an architectural masterpiece of its time in addition to being the scene of the climax of the recent Sherlock Holmes movie, which I enjoyed thoroughly.
Royal Gorge Bridge – Carson City, Colorado
Back to the US, here's a place I need to get to on my motorcycle. I'm trying to chart a course that will take us close enough to sneak a peek at this baby.
Ponte Vecchio – Italy
Europe's already been well-represented, but we're going to the well again with this gorgeous segmented arch bridge across the Arno River. It is beautifully illuminated at night, and occupied by numerous little shops… you'd never know you were on a bridge.
Keshwa Chaca Grass Suspension Bridge – Huinchiri, Peru
You absolutely must check out this amazing story on the grass bridges of the Inca people. Very few of these remain for the obvious reason that they are in constant need of repair. The most noteworthy is the Keshwa Chaca in southern Peru, which has existed, in some form or another, for at least 500 years.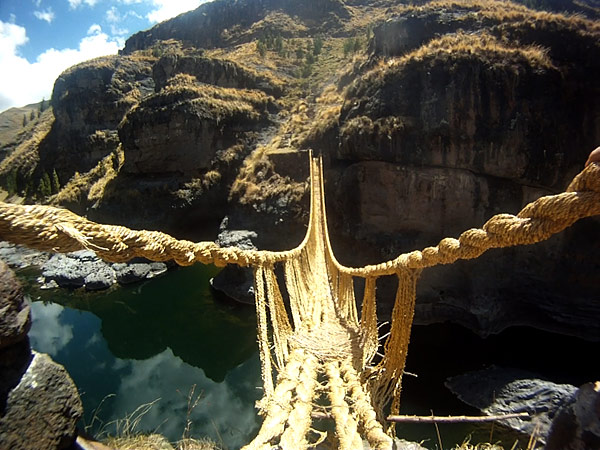 I'm not sure about you, but I just added at least four or five must-sees to my list. Now, if you're wondering how you can make your way to one of these places, read about how we're using credit card rewards to take advantage of free travel offers.
Nothing pains us more at WorldWanderlusting.com, than hearing "I'd love to travel, I just can't afford it."  We write about inexpensive ways for people to get to places they had only dreamed of.  Follow us on Facebook or check out these other great posts:
Wanderlust with us.