I just applied for the Chase Bold Ink charge card, raking in another 50k Ultimate Rewards points, which, like all of the points and miles in my Awardwallet, I'm anxious to put to work in the form of some wonderful adventure.
I got on www.ultimaterewards.com to start wanderlusting about where they might take me and just played with a few ideas.  My first thought was to use the points to book flights for our cruise in March.  The way I see it, using the Ulitmate Rewards points to book travel directly offers some significant advantages:
Each point is essentially worth 1.25 cents – 50k points equate to roughly $625 in value.
By using the points to book travel directly, they can be used with any airline at any time.  Thus, if you're having a hard time working out FF mile travel, these come in handy.
You'll also accrue miles through the program of the airline you use.  This acts as a double bonus because using your 50k points could equate to as much as another 10k miles – all of which also count towards status.
I took a screenshot just to show how it works.  They neatly calculate the value of your points as you search your options.  You can use the Farecompare Flyertalk fares tool to really start to play with your options.   At the moment, my 50k Ultimate Rewards points could take me to all of these locations with points to spare and earn me 11k more miles while I'm at it.  I'm particularly intrigued by the flight to Venice, which is the launching point for our Starwood Preferred Guest Exploring Europe Itinerary.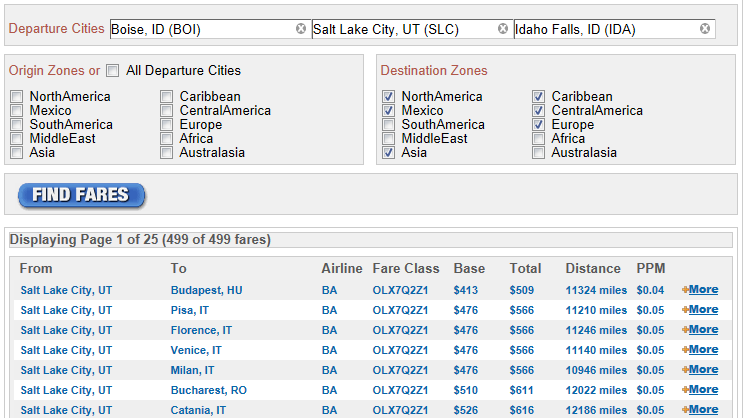 Transferring your Ultimate Rewards
There are many other ways to use the Chase Ultimate Rewards Points, including transferring them to other programs. Currently you can transfer the Ultimate Rewards to:
Southwest Airlines Rapid Rewards
United Airlines Mileage Plus
Marriott Rewards
Hyatt
British Airways Avios
Priority Club
Korean Airways
Amtrak
These can all be transferred at the rate of 1:1 to each of these programs.  This is advantageous because when booking your trip with points you can transfer the exact amount of points needed for that vacation, and the rest can stay in your Ultimate Rewards account until you are ready for your next trip.