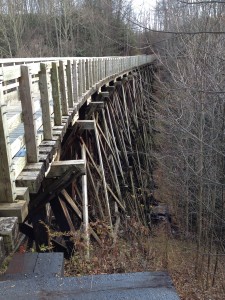 Railroads were huge in the late 1800's.  Sometimes they went to great lengths to build railroads over mountains that probably should never have been built.  This is the case of the Virginia Creeper Trail. They built a railroad that went up and over the hills of Western Virginia. The scenery is absolutely beautiful. I can't believe the effort that it must have required to build this trail. They had to build over hills and valleys. They didn't use as much steel because the wood was so abundant.  We went over 24 bridges that were built of wood within the 17 miles that we biked.
Luckily the ride is almost completely downhill. You don't have to be Lance Armstrong in order to make it to the end. It took me about two hours to do the ride, and I only really pedaled for the last 10 miles or so. The first part almost requires brakes more than it does pedaling. The curves are gentle and you never get going too fast as it used to be for a railroad. You know that they never would have built a railroad with steep declines and sharp corners.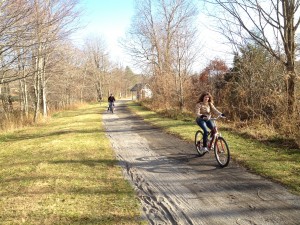 Fall came earlier here than it did in Knoxville.  So keep in mind when you are trying to visit that the fall season here comes earlier, so if you want to see the fall colors plan on coming at the beginning of October. The whole ride is filled with beautiful valleys and trees surround you almost the entire time.
How to Ride the Virginia Creeper Trail
The ride begins and ends in Damascus, Virginia. The town probably has a population of 1000 people, but has some fun shops and is located directly on the Appalachian Trail. I'm sure lots of hikers have found their way to a pizzeria on their long journey.
I completely recommend you taking a trip on the Virgina Creeper Trail.  It was a lot of fun and would be easy to do with children.  You can rent a cart for your children to ride behind you, or you can add on a bike to yours so your child can pedal as well.  They make it all available to you.  It runs about $22 for them to shuttle you to the top of the mountain and let you use one of their Specialized bikes.  It seems pretty reasonable for a three hour span of fun.
They also have signs all along the way that talk about the vegetation and the landscape.  It is definitely recommended!
Score the Starwood Preferred Guest card while the spending requirement has been lowered!