I'm going to highlight two different ideas that I took from the Frugaltravelguy.  He posted them and I felt like they were worthy of sharing.
Club Carlson 50,000 Point Bonus (No Credit Card Required)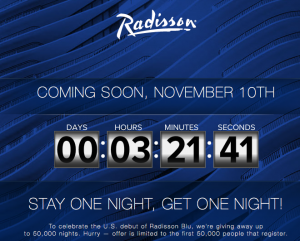 We have a lot of people who are worried about their credit.  This is an offer that doesn't require any good credit at all!  It is limited to the first 50,000 people who register, and it will be available today, but wasn't available at the time that I made this post.
The requirements are simple.
Enroll in the Club Carlson rewards program
Register for the promotion using their link
Stay in a Radisson hotel between November 10th and December 31st
The result?  50,000 Club Carlson points!  That isn't a bad deal at all.  The programs that are included in the Club Carlton program are:
Radisson
Country Inns and Suites
Park Plaza
Park Inn by Radisson
Here is how the points value shakes down.  You can stay in a Category 1 Club Carlson hotel for only 9000 points.  This means that you would have five nights in a hotel.  The downside is that they don't have a ton of hotels in the Category 1.
The Category 2 is still a great option and they have a lot more that fit within that list.  Check out the Category 2 list here.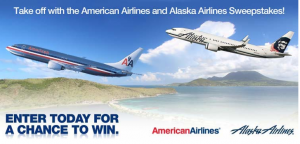 I'm not the kind of guy that usually enters into a sweepstakes.  However, this one was pretty easy.  It only took a few minutes and gives you the option of getting 150,000 AAdvantage miles or Alaska Airlines Points.
I entered for both myself and my wife.  So I'm sure that one of us will win.  Hahah.  I read through the fine print and didn't see any red flags.  It looks like we are good to go!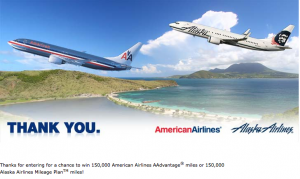 Thanks for reading the blog.  We really hope that you are enjoying the information.  I hope we are helping everyone to travel affordably.
Score the Amex Platinum Card to get lounge access, $200 in airline incidentals, and more..