Wow.
I've visited some elegant places in my life. NEVER have I experienced the luxury of living until today. George Washington Vanderbilt knew how to build a chateau. Let me tell you some facts about the Biltmore Mansion. It was completed in 1895.
Has a two lane bowling alley
Has a 70,000 gallon indoor swimming pool
An elevator that STILL WORKS!!!
2,152,782 Square Feet!!
Boasts 250 rooms
Has over 40 bathrooms
Much, much, more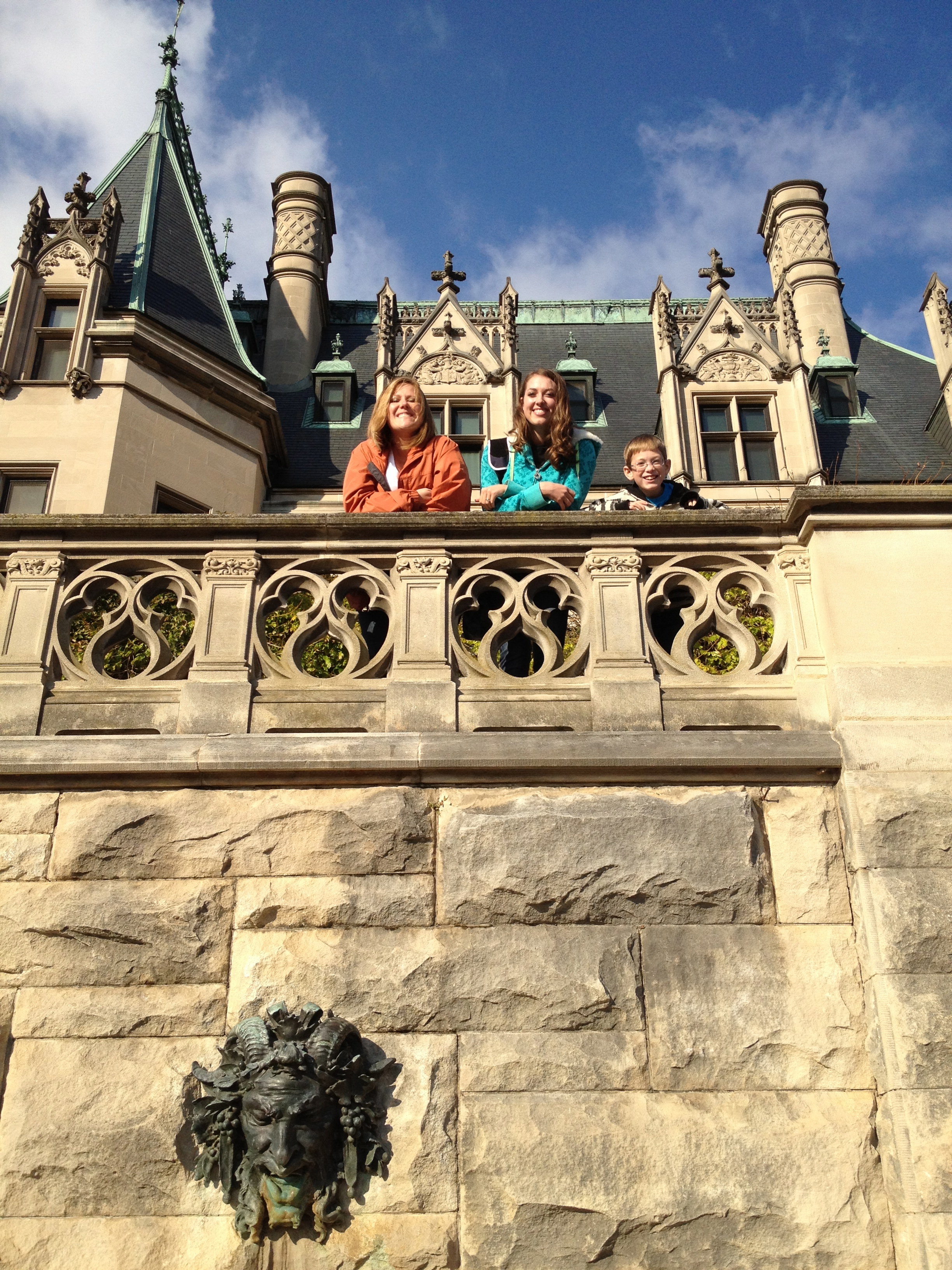 The entrance fee is pretty steep at an amazing $60 per person.   I would try to plan ahead because you can get in for much cheaper if you can plan in advance.  It is amazing because The Biltmore Mansion has over 1,000,000 visitors a year.  That means that they probably revenue about 50,000,000 in visitors from entrance fees alone.  Keep in mind that they also have a luxurious hotel, vineyard, winery, food, and more.  I'm pretty sure that they are still turning a profit. 😉
History behind the Vanderbilt Family
Seeing the huge house has inspired me to do more research.  Essentially his grandfather, Corneilus Vanderbilt, started business after business.  He was a cutthroat business man who allowed nothing to stop his progress.  Legend has it that he borrowed $100 from his mother to start a ferry business in New York when he was 16.  He was then hired by a man who had a large ferry business in the area to be his personal assistant.  Working alongside a businessman who taught him the ropes allowed him to gain vision.
Mr. Gibbons, his employer, was filing a lawsuit against another ferry operator who had been given a monopoly.  Corneilius learned so much about this business from his research that he performed as he prepared to present to their case to the courts.  This knowledge proved to be very useful to him.  He then broke off and began building his empire.
It was small at first, but gained steam.  He would choke out compeitition by lowering prices until the compeitition went out of business.  As he learned more about the ferrys and steam boats he saw a great opportunity in the railroad industry.  His business skills he had learned earlier made the transition smooth to building his empire.
Corneilius decided to give the majority of his business to his oldest son, William Henry Vanderbilt (95%).  At the time of Cornelius' death he had amassed a net worth of $100 Million Dollars.  At that given time it was 1/87th of the US GNP.  Wow!
Passing on to the next generation
Incredibly William was a smart businessman and he turned the 100 talents into 200 talents within 10 years!  He was able to double the value of the family within a very short period of time.
William had eight children, and his youngest was named George Washington Vanderbilt.  He inherited a ton of money from his father, and decided to build a masterpiece with that money.
Being a part of a very affluent family he had some connections to some of the world's best architects and designers.  He tapped into Richard Morris Hunt as the architect and Frederick Law Olmsted as the landscaper.  Construction lasted only six years and his masterpiece was completed. It was equipped with the latest of technology including indoor lighting, a swimming pool, an elevator, a dumb waiter, a refrigerator, and more.
At one point the estate amassed 228 square miles!  Most of it was later sold, but they still have a large chunk of land left.  The descendents of George still own the land and employ approximately 1700 people!  It was first opened in 1930 during the great depression and people stopped living there in 1956.
Today the Biltmore is the largest privately owned home in America.  It is a sight to be seen, and I recommend visiting when they have Christmas at the Biltmore, as it enhances the experience, and helps you to remember what it might have been like when they opened the home for the first time Christmas eve in 1895.  This place was incredible.  It is totally worth the visit.  They have worked really hard to restore the home and make it look as it did then.  We also did the audio tour, which was recommended as well.
Make the trip one day.  You will not regret it.