I have a special affinity toward South America as I spent two years of my life in Paraguay.  I've been itching to get back, but it is difficult to get there.  The only airlines that fly in to the small airport are tiny companies that are based out of South America.  Because of the difficulty of arriving there it might be a few years before I make it back.
I wish that either American or LAN flew into Paraguay, but they don't.  At one point they both flew into Paraguay, but have since canceled their services as the demand is rather low.
There are many other places that I'd love to go in South America.  My brother lived in Argentina for two years and he loved Buenos Aires. I'm not much for dancing, but I'd love to see the tango in action.  I've also dreamed about climbing the hills of Machu Picchu in the Andes.  Tierra del Fuego in the southernmost part of Argentina and Chile would be breathtaking.  I'm always looking for ways to get there.  This is one idea that you might not have considered.
One of the features of the Starwood Preferred Guest® Credit Card from American Express  is that you can transfer the points you earn from that program to participating airlines.  It just so happens that LAN has a great deal, a 2 fer 1.



This means that you get two miles per Starpoint converted.  Also keep in mind that you get a bonus when transferring from Starwood to the airline carriers when moving the points in blocks of 20,000.  The bonus is an additional 5,000 miles that you get for free.  If you combine the two of these deals, it means that transferring 25,000 miles actually equals 50,000 airline miles.  This gives you enough points to fly to the northern part of South America.
For all those people who would love to return to visit Brazil, Peru, Bolivia, Columbia, Venezuela, or Equador, then this is a great option.  This makes the Starwood Preferred Guest® Credit Card from American Express even more valuable as it would only require you to spend $20,000 to get you to Brazil for FREE.  If you did the same with the AAdvantage card it would require $60,000 in spending.  Talk about a great deal.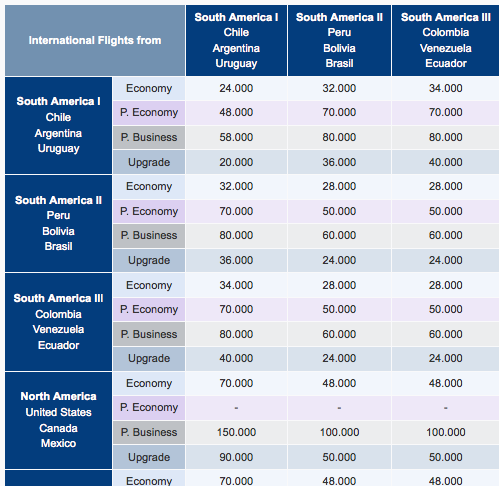 Making it to Argentina would still be tough as it would require an additional 15,000 Starpoints to be converted, but would be well worth it when considering the cost of flying to Ushuaia, Argentina.
Also, right now if you join the LANPass program you can get a free 1000 kilometers (miles) for joining the program. (Thanks TPG)
TPG also says that the website isn't very useful and might require you to call them to book the award.  He also explains that the transfer of the points to LAN from the Starwood Program can take a lot of time, so plan accordingly.
This just goes to show how the Starwood Preferred Guest® Credit Card from American Express is more valuable than just any old hotel card. It has options to redeem for miles with a bonus or stay in great hotels for free. I think it is worth getting for sure. My wife and I both have this card.