The deals keep coming out by the bucketful.  I can't believe my eyes.  This card is really worth a small credit inquiry.  Read about how a new credit card can affect your credit on one of our Doesn't it Hurt My Credit. 
Today I learned about the Southwest Airlines® Rapid Rewards® Premier Credit Card, that they are reviving the 50,000 Rapid Rewards sign on bonus.  I've categorized some of the most important things to consider when getting a card below.  Remember that these things have a short lived offer, so don't delay.
Bonus: 50,000 Southwest Rapid Rewards points upon your first purchase.
Extra Bonus: 3,000 Rapid Rewards Points each anniversary
Spending Requirement: None.  You only have to make one purchase to score the points.  This is a big bonus.  I hate meeting spending requirements.  This is probably due to my ridiculous spending requirement of $15,000.  I've had a lot of people who have helped me to get to this point, but I still have about $5,000 to go and I'm frustrated.  A simple first purchase bonus would be great right now.
Point Earning: You get 2 points per dollar spent on Southwest flights, and all of Southwest's Rapid Rewards' hotel and car rental partners.  You will also be getting 1 point per dollar spent on everything else.
Point Using:  Southwest has a different approach to this than the other big airliners in the USA.  The Rapid Rewards redemption is all based on how much the flight would cost were you to buy it, not a fixed amount for a flight within the USA.
I've taken a snapshot from their website that shows how the points can be used.  You want to choose the lowest fare possible to make sure that your points stretch as much as possible.  As much as possible you want to use a "Wanna Get Away" fare to make the points last as long as possible.
They tote that this card is worth over $800 by saying that a flight is roughly $200 each way, or a total of $400.  You have to take $400 X 60 as long as you are flying on a Wanna Get Away fare.  This equates to 24,000 points.  If they give you 50,000 as a bonus then it is worth two of those, which means that it is worth over $800 truly.  What a great deal!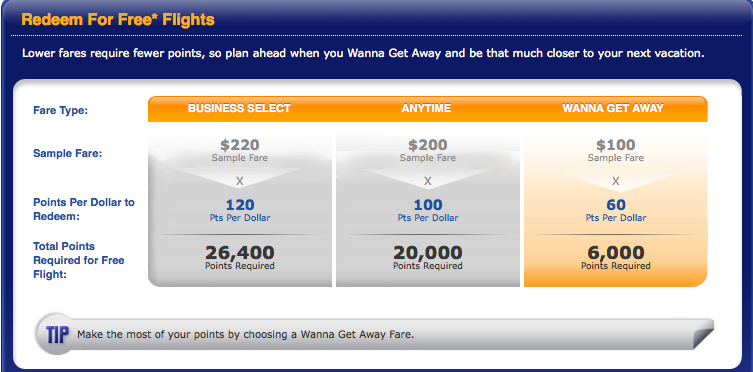 Point Expiration: If you don't earn or use points every 24 months they can expire.
Annual Fee: $69 and not waived the first year.
Foreign Transaction Fees: 3%=Ouch.  Use another card for your foreign transactions.

Card Type: Visa.  I think that this is advantageous as you can spend Visa almost anywhere. 

Card Issuer: Chase Bank.  Chase has been getting almost all of the new cards.  They have had the hottest offers and seem rather reasonable to deal with.  Starting to see a trend?
Other Stuff to Consider: Southwest does NOT charge change fees, and they don't charge for your first, or your second checked bag.  I LOVE this about their flights.  I hate feeling like Delta, American, and United are just hosing me when I pay $50 for luggage.  Aargh!
Southwest is a great company.  They are very smart and have  a niche that they fulfill nicely.  I heard a story once about their company and how they were using a phrase "Plane Smart."  Another company had disputably been using the phrase "Just Plane Smart," before Southwest was using their phrase.  Instead of getting into a huge lawsuit the two CEO's of the companies decided to solve it in a different way.
They met for an arm wrestling match between the two CEO's and charged tickets for admission.  At the end they donated all proceeds to charity and both kept on using their phrases.  I was so impressed by both companies.
I've also read the book "Nuts," which is the story of Southwest's success.  I would recommend it to anyone.  It is a great read.