I've heard a lot about this new Marriott Rewards® Premier Credit Card promotion that will allow you to get 50,000 Marriott Rewards Points. Let's analyze the deal….
Bonus: 50,000 Marriott Points is definitely going to be worth one small hit on your credit score.  This offer is normally only 30,000, so it is much higher than normal. You can sign up for Marriott Rewards, or they will sign you up automatically.
Extra Bonus: You also get one free night at a category 1-4 hotel at each anniversary on the house.  This alone makes it worth keeping the card.
Spending Requirement: None.  You only have to make one purchase to score the points.  This is a big bonus.  I hate meeting spending requirements.  This is probably due to my ridiculous spending requirement of $15,000.  I've had a lot of people who have helped me to get to this point, but I still have about $5,000 to go and I'm frustrated.  A simple first purchase bonus would be great right now.
Point Earning: You will be getting 5 Marriott Points per dollar spent at Marriott locations.   2 Marriott points will be awarded per dollar spent on dining, car rentals, and airlines.  1 Marriott point per dollar will be awarded for all other purchases.
Keep in mind that there is no annual limit to the amount of points that can be earned on the Marriott Rewards Premier Credit Card.  This is a big plus for big spenders.  It just so happens that I'm not a big spender as my business doesn't require me to spend much.
Point Using:  This is always important. How can you use the points that you get.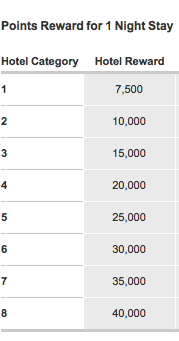 I've included the schedule to show how the points can be used.  You can see that staying in a category 2 hotel would yield five nights in a hotel.  If you consider the free night that they give you then the application is worth six total nights at the hotel.
They yield less as you stay in higher category hotels, but I can see over $600 in value with this one application.  I know that I would have stayed in some Marriott hotels in North Carolina had I have had some points with them, but I didn't at the time.
You can look up the hotels in each category by searching on their Hotels By Reward Category.  Obviously there are going to be fewer options in the first category, but hopefully you can find some that would work for you and your family.
It seems to me like they don't have too many options for foreign options in the lower category, but it has a ton of options inside the United States.  For foreign hotel options I much prefer the Starwood Preferred Guest option.
Point Expiration: If you don't earn or use points every 24 months they can expire.
Annual Fee: $65 and not wavied the first year.
Foreign Transaction Fees: 3%=Ouch.  Use another card for your foreign transactions.

Card Type: Visa.  I think that this is advantageous as you can spend Visa almost anywhere.  My Amex isn't accepted everywhere, but the Visa virtually is.

Card Issuer: Chase Bank.  Chase has been getting almost all of the new cards.  They have had the hottest offers and seem rather reasonable to deal with.  I've never actually had a Chase card, but I'm really interested in this one.
Award Wallet
Keeping track of your points can be a hassle.  Don't let it be that way.  Use AwardWallet to access your accounts and see when points are expiring and how many you have.  You can use my AwardWallet link to score free premium service for the first six months free.