When I started doing research for my trip to North Carolina I noticed that there weren't any Starwood hotels in the Eastern part of the state. I was a little discouraged when I found this out, but then I just decided that I would either use Priceline, Hotwire, or Expedia.
I hadn't really planned the trip out completely besides my arrival date, departure date, and the first two days doing work. The rest of the days were wide open. When I started looking around I realized that other states weren't too far apart. I'm used to the Western United States where the states are much larger. I realized that I hadn't even considered looking for Starwood hotels in other states.
I hopped on their website and I found that they had a couple of great hotels in the Charleston, South Carolina area that were category 2 hotels. A category 2 hotel according to Starwood uses 4000 Starpoints on a weekday, but only 3000 Starpoints for a weekend. It just so happened that I had a couple of weekend nights that were open on my trip. I decided to make the trip from Jacksonville, NC to Charleston in one day and that way I could enjoy some of South Carolina as well.
Booking Process
The booking process was very simple.  I didn't have to call anyone, or go through a million hoops to reserve the room.  I just signed into their website and voila!  I did it a day before my check in, which was really nice.  It was great to make a last minute booking without paying some lame "late booking fee."


The hotels that were available were the Sheraton Airport Hotel and the Aloft Airport Hotel. I've never even seen an Aloft hotel, and it appeared nice from the pictures, so I made the jump and reserved the room. After all, I need to use up some of my Starpoints that I've accumulated. After all is said and done I will have accumulated 100,000 Starpoints within a nine month timeframe!! Burning a measly 6000 is nothing.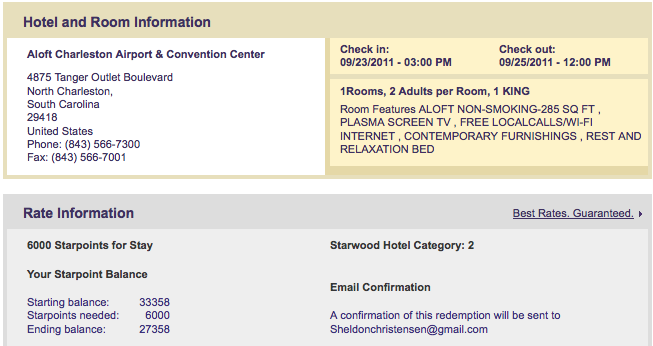 Huge Savings!!
I figure that the Starpoints saved me over $200 for both nights. I was excited to learn that you don't even have to pay sales tax for the room!  This was a big bonus.  South Carolina has a gnarly 8.something % sales tax. Ouch!! (It is 11% if you are going out to eat).  I've found that the Starwood Preferred Guest card can be even more valuable than the airliner credit cards.  I'm beginning to understand why the Frugal Travel Guy likes this card so much.  I really think might be worth keeping and paying the annual fee year after year.
I can't wait to use a few more points on my next adventure or next weekend getaway to the Salt Lake Sheraton.
Get one too
Right now they have lowered the spending requirement on the Starwood Preferred Guest card.  Get it now and earn up to 25,000 as a bonus!