Today when I went to my local branch of US Bank I noticed a flier that was sitting on the counter. I've taken a picture of the flier and included it below.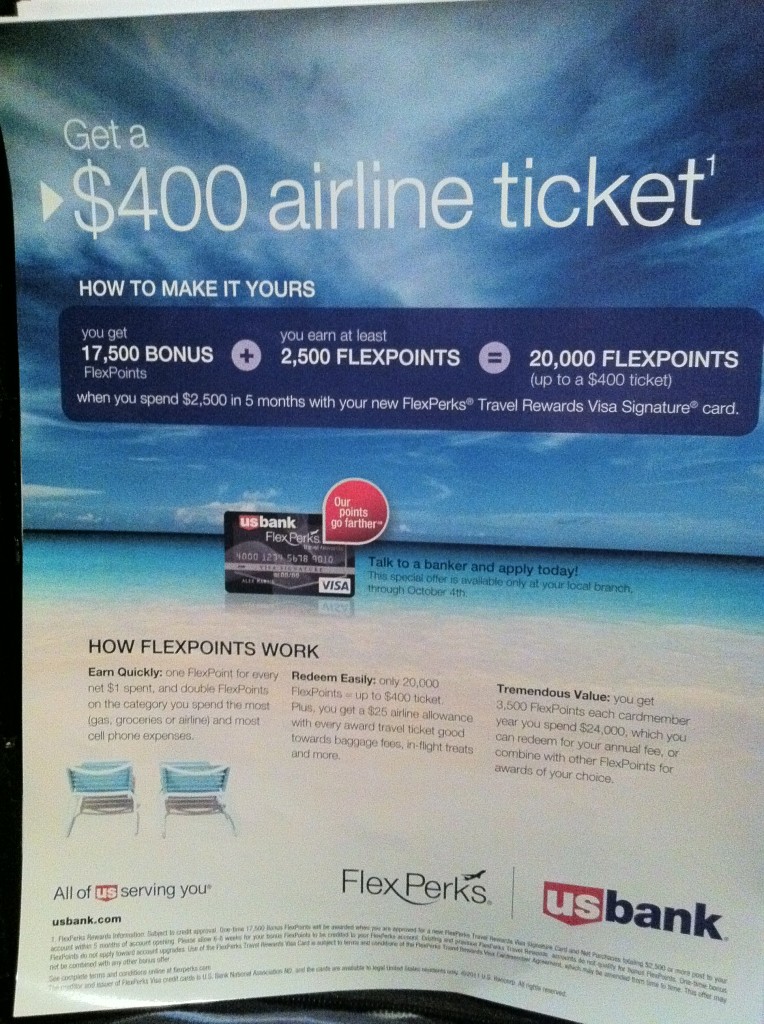 The offer isn't out of this world, but it is a great offer from a bank that usually doesn't have stellar offers.   US Bank doesn't have any ties to any specific US airline, and hasn't since the Northwest and Delta merger a couple of years ago.  They still offer a card that gives points through LAN, but that is a separate offer.
As I understand the flier it looks like this:
Spend $2500 on the card within the first 5 months of card membership
They bonus you an additional $17,500 points for meeting the initial spending requirements.
This gives you a total of 20,000 Flexpoints. This equates to $400 in airfare. It also gives you $25 credit for baggage fees.
The flier isn't too clear, but it seems as though there is an annual fee of $70, but that is still unconfirmed. It is also unclear if the annual fee is waived for the first year. It also specifies that this offer will only be honored in branches, rather than being offered online, so it might be tough for those of you who live in areas where there aren't any US Bank branches.
The offer expires on the 4th of October, so there isn't much time on this offer, but it looks like something that I've never seen before.
Also remember that these points aren't transferable to an airline, therefore you have to use the points before you can cancel the card. So make sure you plan on traveling within the next year to make sure that you avoid paying the annual fee in the second year.