I have a good friend, and fellow BSU Broncos fan who is a pilot for Skywest Airlines (which services the shorter, smaller plane flights for United and Delta among others).  I wrangled him into using a couple of buddy passes and accompanying me out to Atlanta for the Chick Fil A Kickoff Classic.  I had never flown on a buddy pass (standby), and thought that would be the better option than using some of my precious frequent flier miles.
We left Idaho Falls on a United Flight to Denver.  In Denver we were joined by hundreds of orange and blue-clad fans en route to Atlanta.  While it was nice to be surrounded by fellow fans, it made a timely, direct flight to Atlanta almost impossible.  We hustled from gate to gate, and finally settled on the idea of heading to Nashville to try our luck there. We happened to sneak on as the last two passengers on the flight.
In Nashville, our luck wasn't much better.  The first flight to ATL was so overbooked I was wishing I had a real ticket so I could have taken advantage of a $400 travel voucher bump.  The second flight was overbooked as well, so we started looking into the possibility of a one-way car rental to Nashville, but at $156 for one day and a 4 hour drive, it didn't seem very practical.  It came down to the wire and by the skin of our teeth, we were able to make it on the second flight to ATL.  All in all, the flights worked out, but the buddy passes aren't free and for a guy like me to fly 3400 miles and pay without getting a single FF mile is a grievous sin.
I had booked us a hot-rate non-refundable deal for a rental car and 2 nights in 2 star hotel near the airport for $145, which I felt like was a great value when we got a mid-size car from Hertz, but then began to crumble when we arrived at a dive Days Inn and all they had for us was a dirty room with a single King Size Bed.  They offered us a rollaway bed for $10 a night, and I went to work with the Hotwire customer service people.  I got them to refund the non-refundable hotel charge and we opted for a really nice Fairfield Inn just down the road for a total of $65 a night – a price we gladly paid for the added cleanliness and our own beds.
All of this we pulled off in time to get to the Atlanta Braves vs. the Dodgers in the second inning.  It will come as no surprise that I am a consummate ticket scalper… and they get really cheap in the second inning.  We had to walk away from the scalper and I thought he had called our bluff until he called us back and settled on $20 for two tickets on the first base line.  One of these days I'll post about scalping strategies.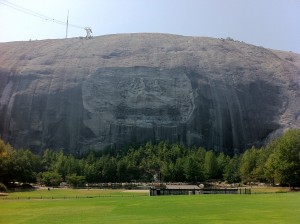 The next day we made an excursion to Stone Mountain, a mammoth piece of exposed granite which rises seemingly from nowhere, from the side of which juts an enormous carving of Confederate President Jefferson Davis, and Generals Robert E. Lee and Stonewall Jackson.   The carving, incidentally, was commissioned in 1916 to Idaho-born sculptor Gutzon Borglum.  (Borglum abandoned the project and went on to conceive and to carve the faces of four American presidents into Mt. Rushmore in the Black Hills of South Dakota).  The carving resumed in 1958 was was determined to be complete in 1972.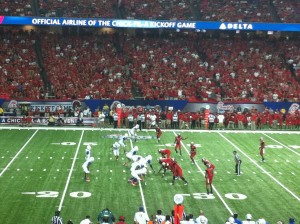 After hiking to the top of Stone Mountain in 95 degree weather, lots of humidity, and little to no shade, we ran down and set about our game-day preparations.  Southern hospitality was true to form and the great majority of the Georgia fans welcomed us with kindness and graciousness.  Also true to form, my Boise State Broncos executed a pass-punctuated trouncing of an SEC opponent for the first time, with Kellen Moore carving up Georgia's defense much more expeditiously than the carvers who took on Stone Mountain – albeit slightly flawed from the standpoint of allowing 21 points against our 35.
But now to boil it down to my key takeaways:
There's a place for buddy passes, but probably not en route to a big football game.  When BSU goes to New Orleans to play in the National Championship in January, I'll be using my frequent flier miles. Frequent Flier Miles > Buddy Passes
Hotwire also has its place, but buyer beware.  In some instances, non-refundable expenses might be refundable if you whine bad enough, but don't plan on it.
You can scalp a last-minute ticket to almost anything at a fraction of the cost.
Georgia coach Mark Richt has a rockin' spray tan. (http://www.markrichtsspraytan.com/)
New Business Card from American Express. This card offers a 50,000 Membership Rewards Bonus once you spend $10,000 within the first five months.