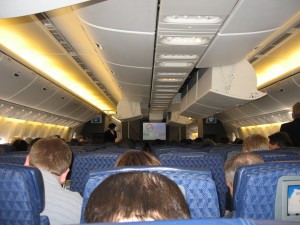 It's no secret that the customer service of airlines is taking a nosedive. We used to get on planes and find nice white pillows upon which we could lay our heads and blue blankets to spread across our laps. (Actually that reminds me of a story. One time, when I went to Thailand I took one of those little blue blankets from the plane in New York and used it on the beach in Thailand as a beach towel, on the train in Thailand as a blanket, and when trekking across the northern hill tribes of Thailand as well. On my way home I kindly dropped it off on my plan in New York. It was basically a rental. Hahah) They fed us with a mediocre meal and as many drinks as you wished. Their goal was to make your flying experience as comfortable as possible. Then things changed.
As fuel prices rose our benefits decreased. They stopped feeding us those meals on little airline trays, and allowed us one drink even if we were dying of thirst. They ripped the blankets from our laps and pulled the pillows out from under our sleeping heads. Now we are just another number, and it is our responsibility to bring food, blankets, food, and drink. Obviously we have seen a huge decline in the customer service realm of airlines.
The interesting thing is that they still have customer service representatives in call centers across America. The job of these people is to help us when we have had a bad experience on our trip. They are available after your trip and they respond by phone or email. Each company has a department that helps clients to "Make things right." Some of you have never had experience with these people, but I have. I would love to share my experience with you and would love to hear about yours. Share yours as a comment below.
When our flight was delayed leaving San Jose the customer service attendant kindly offered me the option to stay in San Jose for another day as I might not be able to make my connecting flight in JFK. She offered no hotel, no food, and virtually nothing else. I was rather disgruntled and told her that we would go to JFK and decide what to do at that point. I guess that the crew needed rest and she told me that it wasn't deserving of any free services. We boarded the plane and headed off for JFK.
Upon arrival in the JFK airport we were already too late for our connecting flight into Chicago. We found a ticketing booth at JFK and found a lady who was very helpful. I mentioned that our flight was late leaving SJO and we had missed our connecting flight. When she told me that there was no other way home for the night I acted sad, but was actually pretty happy. She gave us a room at the Lexington Hotel, some food vouchers, and a taxi trip to the hotel. We rushed to the room, threw our stuff down, grabbed some food at the restaurant and headed off too Times Square. We didn't have a lot of time, but it was a great addition to our trip.
The best part is yet to come. So when I got home and had been settled for a day I wrote an email to the Customer Service team at American Airlines. I explained that the flight had been delayed and my wife had subsequently missed work (A vacation day she didn't have) and her boss had been rather disgruntled. I had also missed a few appointments. I requested that they give me 20,000 AAdvantage miles for my troubles. When the email response arrived I was pleasantly surprised…
"While we must respectfully decline your specific request, as a gesture of goodwill,
we've credited your and your wife's AAdvantage® accounts with 10,000 bonus miles each.
This adjustment should be reflected in your accounts very soon."
So, just remember that it never hurts to ask for a little benefit. These customer service reps have the power to issue Frequent Flier Miles to you or $$ off your next flight. If you've had a legitimately bad experience, let them know and maybe you will score too.
If you like our posts, make sure you like WorldWanderlusting on Facebook.