This is a question that was recently asked by one of our readers.
In most cases, vouchers are non-transferable,  but that doesn't mean that you can't transfer them.  I know that doesn't make a lick of sense, but that's how it works.
For example, with Delta, if a voucher (e-credit number) is issued to Brad Christensen, then Brad Christensen's name must be used along with the e-cert number in order to book the tickets, but Brad Christensen doesn't necessarily have to fly.  The ticket could be booked for John Doe.  Essentially what you are paying for is the e-cert number as well as the name on the voucher.  Then you book the ticket as if you were the holder of the voucher.
Some vouchers are transferable, and may charge a fee.  You kind of have to look at this on an individual level.  Make your seller do the research.  They shouldn't be selling it if they aren't 100% sure that you can use it.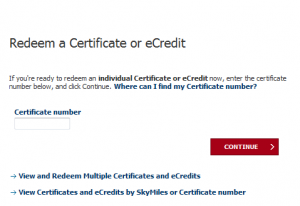 The easiest way to protect yourself is to validate the certificate by typing the code into the reservations system.  The seller may be reluctant to offer the code before receiving the money, just as you might be reluctant to offer the money before receiving the code.  Thus, it's best to use paypal or some other method of payment where you have some form of recourse – basic practice for any transaction.
Theoretically, though, the seller could record the certificate number and later use it, thereby invalidating the voucher they sold to you.  This is one reason I'd only recommend buying a voucher once you're completely ready to book, so that there's no time lapse there at all.
If you're a little skeptical, that's normal, but if you're feeling like a seller is really shady, go with your gut and don't take the risk.
Also remember that one of the beauties of using these vouchers is that you'll also collect frequent flier miles for the routes you travel.  If you haven't already, be sure to check out our original post on secondhand vouchers and our follow-up post.