One of our readers asked us how we might plan a cheap and exotic honeymoon.  Everyone plans trips differently and likes different things.  Here is one idea of a honeymoon that would be unforgettable without breaking the bank.
I know that a cruise is a cliche idea of a honeymoon, but you can't beat the food and entertainment all-in.  Let me show you how to do all of it for a great deal!
The Flight
Getting your flight should be pretty easy, but you will definitely have to book it in advance.  Living in Idaho makes it very difficult to fly into Miami, or San Juan the exact day that the cruise starts and leave the same day it ends.  This is really difficult because I always have to make at least one connection, if not a couple more.
Citi is still honoring the American Airlines 75,000 to today, but it could turn off at any time.  I really feel like this is the best card that is even available right now.  You can use the 75,000 AAdvantage miles to get two people to Florida or to San Juan very easily.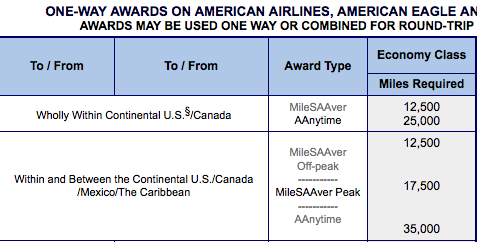 I pulled this from AA's website and it shows how many miles it requires for a one way trip.  You can see that the Florida option would cost you 12,500 each way, or 25,000 miles for one person on a round trip to Florida.  Going to the Caribbean is probably going to cost you 35,000 to get you to San Juan.
Any way you slice this one it is an amazing deal on the 75,000 bonus miles.  You still have some costs to consider:
Baggage fees: $25/per person per bag. This is going to run you $100 on the trip unless you are cheap as I am, in which case it would only cost you $50.
Taxes:  If you go to Florida you might expect to pay $1o per person, if you go to Puerto Rico, you might expect more like $25 per person.
Total for Airfare: $70
By doing this you are going to be able to save between $600-900 on the airfare.
Hotel
I know we have pounded the Starwood card lately, but that card is incredible.  I blogged the other day about how you can use the Starwood card before going on a cruise to stay at the Miami Sheraton Airport with the Starwood card there too.
Taxes: $20 per night making that $40 if you stay a night on the way there and one on the way home.
Transportation to cruise: I'd guess that this will cost you $20 per trip.  You might even be able to find another couple and pay half.
Hotel and Transport to Cruise: $80
The Cruise
Cruising is a lot of fun.  Before going on the cruise I always do quite a bit of research on Cruise Critic.  This is a message board where you can meet other people who will be on your ship before you go. They all update you on what they are doing and throw out ideas of how you can work together to get your excursions for much cheaper.
My wife and I love taking local transportation as much as possible instead of taking taxis whenever possible because it allows us to better understand their lifestyles and how they live their lives.  (It's always cheaper too :)) We love chilling on the beach and soaking up the rays.
Unless you drink alcohol you don't have to pay for virtually any food on the cruise.  This makes your honeymoon rather cheap.  You can eat whenever you would like and sit at a table for two every night if you desire.  It is a great time to spend with your new spouse.  No pressure of where to eat or how much you're spending.  It's all included.
There are a few costs that you need to remember when looking at cruises:
Gratuities: Instead of paying each person that waits on you hand and foot they have you pay a flat fee per day that goes toward all the people that help you.  This fee ranges, but it is normally about $10 per person per day.  That means that you need to add on $140 for gratuities at the end.
Alcohol: Luckily I don't drink and neither does my wife.  If you do, I'd recommend a sobering trip.  You will go broke paying for drinks on the boat.
Soda: You can get a soda card for $40 or something like that for the entire trip.  You've got to be drinking a ton of these to make it worth it.
Cruise Excursions: Horrifically expensive.
Lunch: When you're off exploring the island, or the mainland, remember that the food does cost off of the boat.  I always look for the local fare because it one reason that I love to travel, but also it is cheaper too.  (Starting noticing anything about being cheap? :))
Really you should be able to get the cruise for $400 per person.  I used cruise.com to book our last trip and it came with $150 in onboard spending.  We used it to pay our gratuities and offset those costs.
In sum:
Airfare: $70
Hotel and Transport: $80
Cruise: $1100
Total: $1300!
Traveling smart can save you thousands.  This is a method that I've been using and have found it to save me thousands in travel.  I recommend it to you.  Watch for the good deals, and jump on them.  The SPG Amex is going to expire on the 22nd.  Don't miss this deal!